COMBO EASE -
8 Pages
Simple, intuitive control panel:
Optimal viewing touchpad for quick mode selection and
easy-turn dials with digital readout for temperature and timer.
Press "Steam" for perfect vegetables, poached fish, rice
and puddings.
Press "Combo Hi" to retain moisture in foods such as
beef and fish that typically dry out and shrink in hot
air-only ovens.
Press "Combo Lo" for foods such as breads that need a
browned crust and fluffy center.
Press "Oven" for the dry heat that bakes cakes, pies, puff
pastries, etc.
Side-by-side pan
configuration:
Our side-by-side pan configuration
permits easy, safe access at all times–
no more reaching over near pans to
access pans in the back, as is the
case with competing front-to-back
designs. Holds up to ten 18" x 26"
sheet pans or ten 12" x 20" x 2.5"
hotel pans in one load. Conveniently
cooks different items at the same
temperature.
Removable
drip tray
Flexible cleaning options:
Unlike steam generator and spritz
combi designs, the unique boilerless
reservoir system of the ComboEase
minimizes the amount and dissemination
of corrosive byproducts. Less
maintenance, lower costs! When
more than just a daily wipe-down is
needed, the ComboEase lets the operator
select "Clean" for automatic pressure
spray or "Delime" for a thorough
deliming of any buildup if necessary.
CrispEase™ button:
Ideal for foods such as french fries, poultry, potatoes au gratin and
others that need savory crisping and browning without the use of
unhealthy oils.
Energy efficient,
heat-transfer design:
By utilizing a single under-cavity
heat-source assembly for both oven
heating and steam generation, and, a
wrap-around thermogenic flue design,
the ComboEase is able to operate at
a low BTU rating and distribute a tremendous
amount of the extracted heat
uniformly throughout the cavity. Great
utility savings, great "no-turn" cooking!
Achieves cooking performance
comparable to ovens requiring
40% - 75% more energy!
Patent-pending, boilerless steaming
reservoir system:
The feature that separates us from every other
combi! The ComboEase is the ONLY combi that can
deliver the high-steam performance of a production
steamer while also being easy and inexpensive to clean
and maintain. Our unique boilerless, triple-reservoir
system is the reason why. Water is boiled in this shallow
reservoir beneath a protective steam lid resulting in
robust steam output. All other "boilerless" units use a
water spritz process that relies on a fine spray of water
vaporizing into steam when it hits the cavity walls–this
process compromises their steam output. Additionally,
chloride stress corrosion
is a common result. In
the ComboEase,
byproducts stay
suspended i n
water or confined
to the reservoir;
in competitive
combi ovens, they
scatter throughout
the cavity increasing
the likelihood of interior
corrosion, warping and
rusting.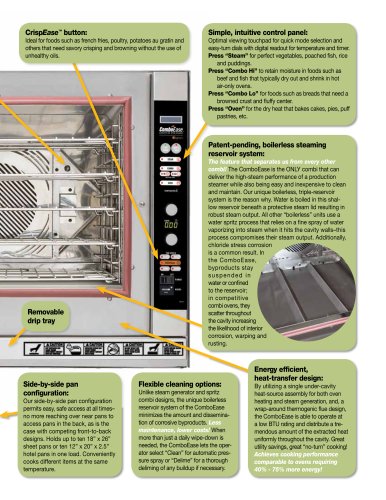 Text version
All GROEN catalogues and technical brochures
Archived catalogues
Vortex100

8 Pages

SmartSteam100 Boilerless Steamer

8 Pages

ECLIPSE BRAISING PANS

4 Pages