Booth:
Giorgio Graesan & Friends
SPATULA STUHHI -
72 Pages
È uno stucco lucido, naturale, a lunga stagionatura, di grande qualità; polveri di marmo ed additivi conferiscono al prodotto
alta adesione al supporto ed ottima scorrevolezza al momento dell'applicazione, raggiungendo la finitura rapidamente.
SPATULA STUHHI consente la massima traspirabilità, resiste all'aggressione alcalina e per sua natura è un ottimo antimuffa
nonché battericida; il suo continuo processo di carbonatazione assicura un'ottima resistenza all'umidità.
SPATULA STUHHI è un rivestimento assolutamente ecologico e non contiene solventi.
Completamente all'acqua quindi per sua natura non infiammabile.
Consumo ideale nelle 3 Mani: 1 kg per mq.
LAVABILITÀ: Il prodotto nella sua versione normale non è lavabile. Anzi, la sua migliore caratteristica è la traspirabilità.
In aree ove sia necessaria la lavabilità consigliamo la protezione con Cera del Vecchio.
RIVERNICIATURA: Dopo molti anni si potrà decidere di sostituire SPATULA STUHHI o con SPATULA STUHHI stesso o con altri prodotti.
È molto semplice, ecco cosa fare: Carteggiare adeguatamente fino ad eliminare la lucidità superficiale.
Applicare direttamente ancora SPATULA STUHHI od idropitture o altro senza alcun problema.
TEMPO DI ASCIUGATURA: Trattabile dopo ca. 12-14 ore a +20 °C (273 K) e con un'umidità relativa del 65%. Asciugatura totale dopo 28 giorni.
CONSERVAZIONE: In luogo secco, fresco, al riparo dal gelo e dall'umidità.
NORME DI SICUREZZA: Proteggere gli occhi e la pelle da spruzzi del prodotto.
CONSUMI: SPATULA STUHHI Naturale 150/200 gr./mq. - Spatula Stuhhi 700/1000 grammi al mq.
This is a glossy, natural, high quality stucco that has been seasoned for a lengthy period;
marble powders and additives make the product highly adhesive and it flows well when
applied, reaching the finished stage very quickly. SPATULA STUHHI breathes extremely
well, is alkaline resistant and is an excellent natural anti-mildew and bactericidal product; its
constant carbonation process makes it highly resistant to humidity. SPATULA STUHHI is a
totally ecological covering and contains no solvents. It is completely water-based and is
therefore non-inflammable. Ideal Coverage using 3 Coats: 1 kg m2.
WASHABILITY:The product is not washable in its normal version. On the contrary, its best
feature is that it can breathe. We recommend protection with Cera del Vecchio in areas
where washability is necessary.
REPAINTING: After many years you may decide to replace SPATULA STUHHI either
with SPATULA STUHHI itself or with other products. It's very simple, just: – Rub down
with sand paper until you have removed the glossy surface. – Apply SPATULA STUHHI
again, a water-based paint or any other product, directly without any problem.
DRYING TIME: Treatable after about 12-14 hours at +20 °C (273 K) and with a relative
humidity of 65%. Totally dry after 28 days.
CONSERVATION: In a dry, cool place, away from the frost and humidity.
SAFETY REGULATIONS: Protect the and skin from splashing with the product.
COVERAGE: SPATULA STUHHI
e eyes a
Naturale 150/200 grams/m2. - SPATULA
STUHHI 700/1000 grams to the m2
C'est un mastic brillant, naturel, à séchage long, de grande qualité ; des poudres de marbre et
des additifs donnent à ce produit une excellente adhésion au support, et une fluidité optimale au
moment de l'application, tout en permettant de parfaire la finition rapidement.
SPATULA STUHHI permet le maximum de transpirabilité, il résiste à l'agression alcaline, et de
par sa nature il combat efficacement la moisissure et les bactéries ; le processus continuel de
carbonatation garantit une excellente résistance à l'humidité. SPATULA STUHHI est un revêtement
absolument écologique ; il ne contient aucun solvant. Il est fait complètement à l'eau, et est
donc de par sa nature non inflammable. Consommation idéale en 3 couches : 1 kg par m2.
LAVABILITE: Dans sa version normale, ce produit n'est pas lavable. Au contraire, sa qualité
principale est la transpirabilité. Sur les surfaces où la lavabilité est nécessaire, nous vous
conseillons de protéger avec la Cera del Vecchio.
REPEINTURE: Après beaucoup d'années, vous pourrez décider de remplacer SPATULA STUHHI
par un autre SPATULA STUHHI ou par d'autres produits. C'est très simple, voilà comment
faire: poncer de façon adéquate pour éliminer le brillant superficiel, appliquer directement à nouveau
SPATULA STUHHI, ou bien des peintures à l'eau ou un autre produit, sans aucun problème.
TEMPS DE SECHAGE: La surface peut être traitée après environ 12-14 heures à +20°C
(273 K) et avec une humidité relative de 65%. Séchage total en 28 jours.
CONSERVATION: Dans un endroit sec, frais, à l'abri du gel et de l'humidité.
NORMES DE SECURITE: Protéger les yeux et la peau contre toute éclaboussure du produit.
CONSOMMATIONS: SPATULA STUHHI
p
Naturale 150/200 gr./m2 - SPATULA
STUHHI 700/1000 gr./m2
Es handelt sich um eine glänzende, natürliche Spachtelmasse mit einer langen Ablagerung und
einer gro'en Qualität; Marmorstaub und Zusatzstoffe verleihen dem Produkt eine hohe Haftung
an der Unterlage und eine hervorragende Flie'kraft, im Moment, in dem dieses aufgetragen wird,
und ermöglichen eine schnelle Feinverarbeitung. SPATULA STUHHI ermöglicht eine maximale
Transpiration, widersteht einer alkalischen Aggression und ist wegen dessen Natur ein hervorragendes
schimmelverhütendes und bakteriziedes Mittel; dessen andauernder Kohlesäuresättigungsprozess
garantiert für einen hervorragenden Widerstand gegenüber Feuchtigkeit. SPATULA
STUHHI ist ein absolut unweltfreundlicher Überzug und enthält keine Lösungsmittel.
Vollkommen auf Wasserbasis und daher seiner Natur wegen nicht entflammbar. Idealer Verbrauch
bei 3 Anstrichen: 1 Kg pro Qm.
WASCHBARKEIT: Das Produkt ist in dessen normalen Version nicht waschbar. Im Gegenteil ist
dessen beste Eigenschaft dessen Kapazität zu transpirieren. In Bereichen, in denen eine Waschbarkeit
notwendig ist, empfehlen wir einen Schutz mit del Vecchio Wachs.
WIEDERANSTRICH: Nach vielen Jahren kann es sein, dass man SPATULA STUHHI entweder
mit SPATULA STUHHI selbst oder mit anderen Produkten ersetzen möchte. Dies ist sehr einfach;
folgendes ist zu tun: - Auf geeignete Weise abschmirgeln bis man die oberflächliche Leuchtkraft
beseitigt hat. - Nochmals SPATULA STUHHI oder Dispersionsfarben oder andere ohne jegliche
Probleme direkt auftragen.
TROCKNUNGSZEIT: Nach circa 12-14 Stunden bei +20°C (273 K) und mit einer relativen Feuchtigkeit
von 65% behandelbar. Vollkommene Trocknung nach 28 Tagen.
KONSERVIERUNG: In einem trockenen Bereich, vor Frost und Feuchtigkeit geschützt.
SICHERHEITSNORMEN: Die Augen und die Haut vor Produktspritzern schützen.
VERBRAUCH: SPATULA STUHHI Naturale 150/200 g/Qm. - SPATULA STUHHI
700/1000 g Pro Qm.
Es un estuco lúcido, natural, de larga curación y de alta calidad; polvos de mármol y aditivos
dan al producto una gran adherencia al soporte y una óptima fluidez en el momento de
la aplicación, obteniendo el acabado rapidamente. SPATULA STUHHI permite la máxima
transpirabilidad, resiste la agresión alcalina y por su naturaleza es un óptimo antimoho
además de bactericida; su proceso continuo de carbonatación asegura una excelente resistencia
a la humedad. SPATULA STUHHI es un revestimiento totalmente ecológico y no
contiene disolventes. Está compuesto complentamente de agua por lo tanto no inflamable.
Consumo ideal en las 3 Manos: 1 kg per m2.
LAVADO: el producto en su versión normal no es lavable. Es más, su mejor característica
es la transpirabilidad. En zonas donde sea necesario el lavado recomendamos la protección
con Cera del Vecchio.
VOLVER A BARNIZAR: después de muchos años se podrá decidir substituir SPATULA
STUHHI con la misma SPATULA STUHHI o con otros productos. Es muy sencillo. E aquí
que se debe hacer: lijar adecuadamente hasta eliminar la lucidez superficial, aplicar directamente
de nuevo SPATULA STUHHI, pintura al agua u otro sin ningún problema.
TIEMPO DE SECADO: tratable después de 12-14 horas aproximadamente a +20°C (273
K) y con una humedad relativa del 65%. Secado total después de 28 días.
CONSERVACIÓN: en un lugar seco, fresco, a resguardo del hielo y de la humedad.
NORMAS DE SEGURIDAD: proteger los ojos la piel de las salpicaduras del producto.
CONSUMOS: SPATULA STUHHI
j y
Naturale 150/200 gr./m2 - SPATULA
STUHHI 700/1000 gramos por m2
SPATULA STUHHI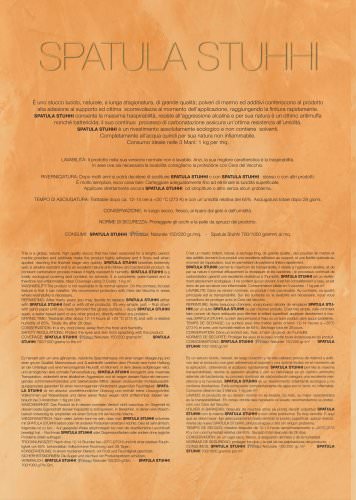 P. 65

Finiture

P. 66

eTerrecotteSPATULA STUHHINella cultura veneziana l'uso di Terrecotte con gli Stucchi Lucidi ha sempredato un sapore più caratteristico e significativo....

P. 68

ST13 ST12 ST10 ST9 ST8 ST6 ST4 ST2 ST1ST65 ST64 ST60 ST38 ST37 ST35 ST34 ST33 ST32 ST31 ST25 ST14STENCIL

P. 69

I COLORI DEL SOLES 1 ZA Prîmus Naturale (1030) 1001/8 + 0,750 ZAS 2 ZA Prîmus Naturale (1030) 1001/24 + 0,750 ZAS 3 ZA Prîmus Naturale (1030)...

P. 71

3a Dopo 30 Secondi 3a2a3a11aa--22aa 33aaPer iniziare applicate SPATULA STUHHINATURALE.To start, apply SPATULA STUHHI NATURALE.Zu Beginn tragen Sie SPATULA...

P. 72

STUHH ISPATULASPATULA STUHHIItalyExport DepartmentSpagnaLombardiaCalabria e SiciliaCampaniaEmilia RomagnaLazioLiguriaMarche, Umbria, Abruzzo e MolisePiemonte...
Text version
All Giorgio Graesan & Friends catalogues and technical brochures
Archived catalogues
Trasparenze

16 Pages