VISIBILE E INVISIBILE -
68 Pages
49
KARIM RASHID DEFINES HIS STYLE WITH A TERM HE HAS COINED
HIMSELF: "SENSUAL MINIMALISM". AN IDEA THAT TRANSLATES, IN
HIS NUMEROUS DESIGNS, INTO SIMPLE, SOFT, ORGANIC AND
FEMININE FORMS. "I GET MY INSPIRATION FROM EVERYTHING:
MUSIC. LITERATURE. FILMS. I REPROCESS ALL THIS INFORMATION
AND CONVERT IT INTO SOMETHING PHYSICAL". OBJECTS OF THE
FUTURE, DESIGNED TO CHANGE THE DAILY LIFE OR THOSE WHO USE
THEM: AND HERE THE ROLE OF TECHNOLOGY BECOMES
FUNDAMENTAL. "WE COULD CREATE DOMESTIC OBJECTS THAT ARE
CONTINUALLY CHANGING... FOR EXAMPLE INTELLIGENT FABRICS
THAT CHANGE COLOUR, OR VASES THAT TAKE ON A DIFFERENT
COLOUR WHEN THE WATER NEEDS CHANGING....".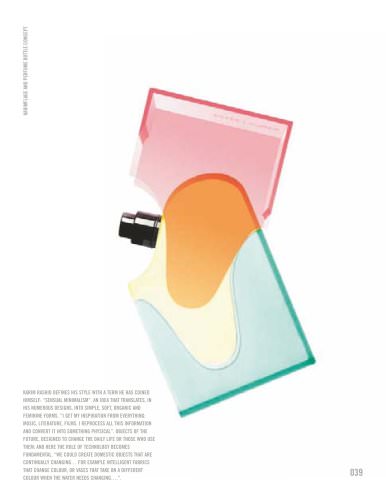 P. 36

BY RASHIDDESIGN STARMORPHSCAPE PATTERN FOR WILSONART, USA034

P. 37

MODELS IN MORPHSCAPE PATTERN DRESSES AND LAMINATE035

P. 38

KARIM RASHID COFFIN CONCEPT036CHI È OGGI IL PRODUCT DESIGNER PIÙ INNOVATIVO? MOLTI RISPONDONO KARIM RASHID: CLASSE1960, LUOGO DI NASCITA IL CAIRO,...

P. 39

TELEPHONE CONCEPT FOR SONY ELECTRONICSWHO IS CURRENTLY THE MOST INNOVATIVE DESIGNER? MANYWILL ANSWER KARIM RASHID: BORN IN 1960, PLACE OF BIRTHCAIRO, EDUCATED...

P. 40

038KARIM RASHID DEFINISCE IL SUO STILE CON UN TERMINE DA LUI STESSO CONIATO: "MINIMALISMOSENSUALE". UN'IDEA CHE SI TRASFORMA, NEI SUOI INNUMEREVOLI PROGETTI,...

P. 42

k

P. 43

041CHAMPAGNE GLASSES FOR RITZENHOFF, AUSTRIA

P. 44

CREATORE DI GRANDI "BEST-SELLER" COME OH-CHAIR E GARBO CAN, KARIM RASH ID HA RECENTEMENTE INCONTRATO IL KNOW-HOW TECNOLOGICO E LA RICERCA FOSCARINI:...

P. 45

MORPH VASE FOR NAMBÉ, USATHE CREATOR OF GREAT "BEST-SELLERS" SUCH AS OH-CHAIR AND GARBOCAN, KARIM RASHID RECENTLY CAME INTO CONTACT WITH...

P. 46

PLOB ART INSTALLATION FOR CAPP STREET PROJECTS, SAN FRANCISCO, USA044"I AM WHAT YOU MIGHT CALL OBSESSED BY THIS PROFESSION…THE INTERESTING THING...
Text version
All FOSCARINI catalogues and technical brochures
Archived catalogues