Booth
FORAFORM AS
Fora Form Catalogue 2011 -
39 Pages
Fora Form ble etablert i 1929 og er i dag
en av skandinavias ledende leverandorer
av staler, sittegrupper og bord til
kontraktmarkedet.
Visjonen er á tilby unike mobler med
skandinavisk design til moteplasser tor
profilering og verdiskaping.
Founded in 1929, Fora Form is now
one of Scandinavia's leading suppliers of
chairs, seating groups and tables to the
contract market. Its vision is to offer unigue
Scandinavian design furniture to meeting
places used for profiling and value creation.
Fora Form wurde 1929 gegrundet
und ist heute einer der führenden Hersteller
Skandinaviens von Stühlen, Sitzgruppen
und Tischen auf dem Unternehmensmarkt.
Unsere Vision ist es, einzigartige Möbel
mit skandinavischem Design fur
Versammlungsorte, an denen man sich
profiliert und Werte schafft, anzubieten.
The heritage
Fora Form har en unik historie.
BO ár med fokus pá utvikling og leveranser
av mobler med en tydelig identitet til steder
der mennesker motes.
Begreper som innovasjon, kvalitet, funksjon,
Eerlighet, estetikk og miljo har fátt et reelt inn-
hold i en bedrift der skandinaviske verdier
har blitt formidlet gjennom generasjoner.
Fora Form has a unigue history.
For BD years, the company has focused on
developing and supplying furniture with a
distinct identity for places where people
meet.
Concepts such as innovation, guality,
functionality, honesty, aesthetics and the
environment have been given real
substance by a company that has
disseminated Scandinavian values for
generations.
Fora Form hat eine ganz besondere
Beschichte - BD Jahre mit Fokus auf
Entwicklung und Lieferung von Möbeln
mit einer eindeutigen Identitàt fur Drte,
an denen Menschen sich begegnen.
Begriffe wie Innovation, Qualitàt,
Funktionalitàt, Ehrlichkeit, Àsthetik und
Umweltfreundlichkeit haben einen reellen
Inhalt in einem Unternehmen erhalten, das
skandinavische Werte über Benerationen
hinweg vermittelt hat.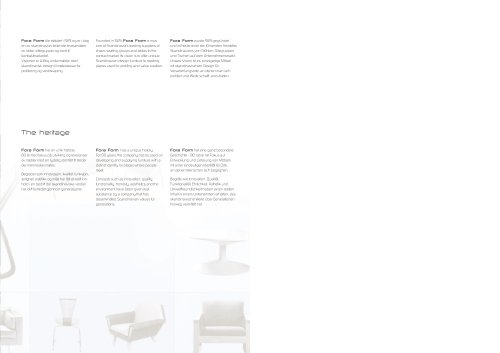 P. 2

Most award-winning design company AWARD FOR DE5IGN EXCELLENCE NORWEGIAN DESIGN COUNCIL Ingen over og ¡ngen ved siden. Hele 35 Merket...

P. 3

Meeting places for profiling and value creation Home is wherever I happen to be. I meet people in places where I am inspired. I work where...

P. 4

IndexColonnadeJazz MonkClippage 66Clintpage 64GelatoJazz YoungCitypage 50page 22page 8Getzpage 38MistoLooppage 28Copenhagen ChairClint Club Tablepage 54page...

P. 5

City W5D, D55, SH46, HB7 cm City stolen torteller historien om skandinavisk design. En stodie av stolens organiske form, lette uttrykk, funksjoner...

P. 6

City - The man, the woman and the chair Bare en stol. Inspirasjonen til den omsluitende og elegante formen var selvsagt kvinnen. En...
Text version
All FORAFORM AS catalogues and technical brochures
News 2013

12 Pages

Colonnade - City

14 Pages