CATALOGUE -

108

/ 118 Pages
VENEZIA / GARBY COLONIAL / F-37
Réf. 31-332, Réf. 35-332 y Réf. 37-332
Esquemas de conexión regulador-conmutador
Descripción
Consume lo que usted necesita, regulando la intensidad de la lámpara a su
gusto. Sustituye a los conmutadores convencionales, es adaptable a las cajas
universales de empotrar, sin necesidad de modificar la instalación actual.
Es válido para:
• Lámparas de incandescencia y halógenas de 40W a 500W.
■ Transformadores toroidales desde 50W a 500W.
■ Transformadores electromecánicos de 90W a 500W.
• Funciona como simple interruptor, como conmutador y en combinación
de conmutador y cruzamiento.
Características
• Clase II
■ IP 20
■ IRC>450 V
• Protegido mediante fusible rápido F 2.5 A
Connection schemes of dimmer - two-way switch
Description
Only consumes what you need, regulating the lamp intensity as you like. It
substitutes the conventional switches and adaptable to fitting standard boxes.
The current installation does not have to be modified.
Suitable for:
■ Incandescence and halogen bulbs from 40W to 500W.
• Toroidal transformers from 50W to 500W
• Electromechanical transformers from 90W to 500W
■ Works as a simple switch, as a two way switch or combined with a two
way switch and a crossing switch
Characteristics
• II Class
• IP 20
■ IRC>450 V
■ Protected with a fast fuse F 2.5 A
REGULADOR
3
CONMUTADOR-REGULADOR
C ]
< ]
CONMUTADOR-CRUZAMIENTO-REGULADOR
1 ]
Sr
£ jNegro
[ 1
M ]
NOTA: En un mismo circuito sólo puede conectarse un regulador-conmutador en combinación con un conmutador simple, pero nunca con otro regulador-conmutador.
IMPORTANT: At the same circuit only one dimmer-two-way switch can be used, combined with a simple two-way switch. Never use two dimmers together!
106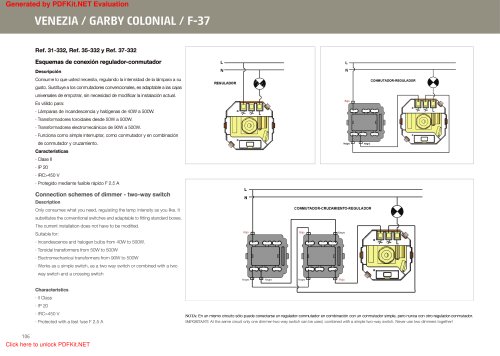 Text version
All FONTINI catalogues and technical brochures
Archived catalogues
Catalogue 2009

101 Pages