Booth

FontanaArte
Group: FontanaArte
FACTORY -
2 Pages
Marco Zanuso Jr, 2009
FACTORY
CODICE

Code/Code

Kode/Código

TENSIONE

Voltage/Tension

Spannung/Tensión

LAMPADINA

Bulb/Ampoule

Glühbirne/Bombilla

CARATTERISTICHE

Features/Caractéristiques

Merkmale/Características

DIMENSIONI in cm

Dimensions in cm/Dimensions en cm

Abmessungen in cm/Dimensiones en cm

4016CR

240V

1x22W max 2Gx13 (FLUO)

IP20 CE V

A: 28,5 - E 1 3,5
Conforme alla norma di riferimento EN 60598-1:2004 e EN 60598-2-1:1 989 e quindi conforme alla direttiva 2006/95
In compliance with EN 60598-1:2004 and EN 60598-2-1:1 989 and so with Directive 2006/95.
Conforme à la norme de référence EN 60598-1:2004 et EN 60598-2-1:1 989 et donc à la Directive 2006/95
Der Norm EN60598-1:2004 und EN 60598-2-1:1 989 und dann den Rlchtllnlen 2006/95 entsprechend.
Conforme a la norma EN60598-1:2004 y EN 60598-2-1:1 989 y por consiguiente a la directiva 2006/95
Applicabile su superfici normalmente infiammabili.
Can be applied to normally inflammable surfaces.
Installable sur des surfaces normalement inflammables.
Auf normalerweise entzündbaren Öberflachen montierbar.
Aplicable sobre superficies normalmente inflamables.
Prima di ogni operazione sull'apparecchio, disinserire la tensione di rete.
Before any operation on the fixture, please disconnect the power supply.
Avant toute opération sur l'appareil déconnecter la tension de réseau.
Vor jeder Montage oder Instandsetzung des Gerats den Strom ausschalten.
Antes de efectuar cualquier operación sobre el aparato, desconectar la tensión de red.
In caso di danneggiamento del cavo di alimentazione, per la sostituzione contattare un rivenditore FontanaArte o personale qualificato.
In case of damage to the feeding cable, please contact a FontanaArte dealer or qualified personnel for replacement.
Xf\ En cas d'endommagement du câble d'alimentation, pour le remplacement il faut contacter un revendeur FontanaArte ou un personnel compétent.
lm Fall von Beschadigung des elektrischen Kabels, bitte Kontakt mit einem FontanaArte Handler oder mit einem qualif izierten Handwerker auf nehmen
Si el cable de alimentación estuviera dañado, contactar a un vendedor de FontanaArte o a personal cualificado para sustituirlo.
FontanaArte si riserva di apportare tutte le modifiche necessarie al miglioramento del presente prodotto in qualsiasi momento e senza preavviso.
FontanaArte reserves the right to introduce all changes required for the improvement of the present product at any time and without prior notice.
FontanaArte se réserve d'apporter à n'importe quel moment et sans préavis toute modification nécessaire pour l'amélioration du produit.
FontanaArte kann jederzeit und ohne Vorankündikung die technischen und die strukturellen Merkmale verandern, um ihre Produkte zu verbessern.
FontanaArte se reserva el derecho de efectuar las modificaciones que considera puedan mejorar este producto en cualquier momento y sin aviso previo.
009401601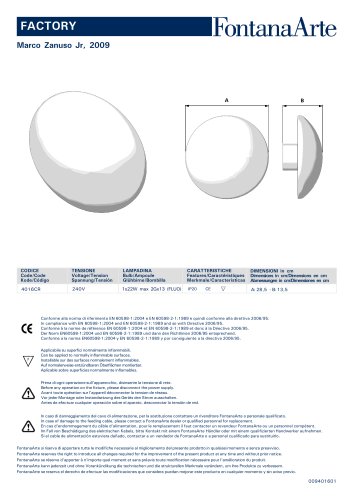 P. 2

Svitare le due viti (1) per rimuovere il fondello (2) dal corpo lampada (3). Unscrew the two screws (1) in order to remove bottom plate (2) from lamp...
Text version
All FontanaArte catalogues and technical brochures
Archived catalogues