Booth
F.lli Stocco s.r.l.
ART DECO -
26 Pages
COLLEZIONE SPECCHI
STOCCO
www.stocco.it
F.lli STOCCOSrl Via Valsugana, 318/A 35010S.Giorgio in Bosco (Padova) Italy tel. +39049 9453911 Օ fax +39049 9450218 e-mail: info@stocco.it >
ArtDթco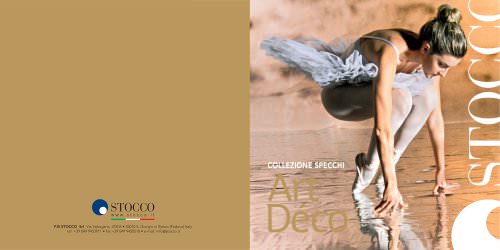 P. 2

Uno specchioper ogni brama 3 >Mirror, mirror, the fairest of allSpieglein, Spieglein an der Wand...Un miroir pour tous les gots Un espejo para cada...

P. 3

Uno specchioper ogni brama Stocco presenta Art Dco, la nuova linea dispecchi dedicata alla casa ma anche agli spazicommerciali o pubblici e a qualsiasi...

P. 4

Sogni a misuradi quotidiano Uno specchio Stocco Art Dco un pezzo unico:nella disposizione delle formelle o nella mescoladei colori del vetro non ci sar騠...

P. 5

Patrimoniodi tradizioneed eccellenza artigiana Stoccos roots are deep in the Veneto region, butthe company has developed a cosmopolitanoutlook thanks to...

P. 6

Patrimonio ditradizioneedeccellenzaartigiana I primi manufatti realizzati per vetrofusione sifanno risalire al 1500 AC. La scoperta di questatecnica...
Text version
All F.lli Stocco s.r.l. catalogues and technical brochures
Vela Arco Ares

51 Pages

Linea_09 35 90105120Più PianoForte

55 Pages

48

75 Pages
Archived catalogues