Booth
F.lli Stocco s.r.l.
ARES -
14 Pages
Ares
Spazio, spazio e ancora spazio!
Tutto quel che serve è finalmente a
portata di cassetto. Ogni angolo del
mobile può essere sfruttato e
minuziosamente organizzato.
Space, space and even more space!
All we need is finally within reach of
a drawer. Each unit's nook and cranny
can be taken advantage of and
meticulously organized.
Espace, espace, et encore espace!
Tout ce qui sert est enfin à portée de
tiroir. Chaque angle du meuble peut
être utilisé et minutieusement organisé.
Raum, Raum und nochmals Raum!
Alles was wir benötigen ist endlich in
Schubladenweite. Jede Ecke des Möbels
kann ausgenutzt und durchorganisiert
werden.
Espacio, espacio y aún más espacio.
Todo lo necesario por fin está a mano
gracias a los cajones. Cualquier hueco del
mueble viene aprovechado y organizado
con minuciosidad.
L160 cm
Ares Ceramica Caffè Lucido
86
87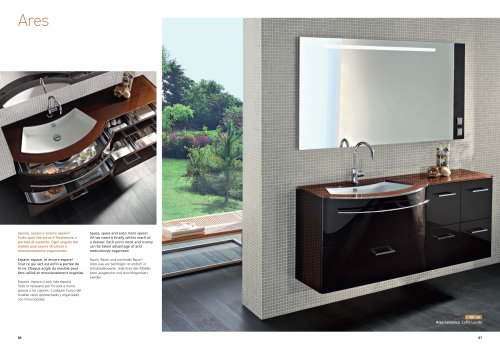 P. 3

AresL160 cmAres Corian® Tortora Opaco77

P. 4

ARESMODULARITÀCORIAN® E VETROL90Modularité - Corian® et VerreModularidad - Corian® y VidrioModules - Corian® and GlassModularität...

P. 5

AresL125 cmAres Vetro VX Bianco Lucido81

P. 6

L160 cmAres Vetro VX Nero Lucido

P. 7

La base portalavabo ARES è unprogetto originale i cui frontali sonorealizzati a forma di cono rovesciato.Ciò consente la massima ergonomia in52...

P. 9

L160 cmAres Vetro VX Titanio

P. 10

AresÈ un pezzo di design a sé stante:lo splendido lavabo in vetro con pianointegrato è disponibile in tuttii colori della palette vetri...

P. 11

COLLEZIONE ARES MODULARITÀCOLLEZIONE ARES LAVABIMODULARITÉ • MODULARIDAD • MODULES • MODULARITÄTVASQUES • LAVABOS...

P. 12

COLLEZIONE ARES TAVOLA COLORIPALETTE DE COULEURS • TABLA COLORES • COLOUR CHART • FARBKARTECOLORI LACCATI LUCIDIColoris laqués brillantsColores...

P. 13

AresSTOCCO collections: all rights reserved. Registered Community Design.Graphic design studio@arduiniveroni.itPhoto Studio RocciConcept & Copywriter...
Text version
All F.lli Stocco s.r.l. catalogues and technical brochures
Vela Arco Ares

51 Pages

Linea_09 35 90105120Più PianoForte

55 Pages

48

75 Pages
Archived catalogues