| | |
| --- | --- |
| | |
FEDE - SWITCH & LED -
8 Pages
New
SIGNALING LIGHT INDICATORS
Nouvelle gamme
d
e Signalisation et Balisage.
The FEDE SIGNALING
LIGHT INDICATOR incorporates the latest LED
technology and is designed for guidance of persons in different environments. It can be situated
in rooms, stairways or
at any required location
within a building. Two
separate styles are provided for the Night Light
Indicator:
Notre nouvel indicateur
lumineux incorpore la dernière technologie LED et a
été spécialement conçu pour
nous guider dans les zones
sombres. On peut l'installer
dans les chambres, escaliers
et zones de passage. Nous
disposons de deux types
d'indicateurs:
1. FD28606 White-Red
colored LED selectable.
2. FD28607 RGB couleur
changeante du LED
2. FD28607 RGB colorchangeable LED
Both are electronic devices with minimal power
consumption.
17 styles of self-adhesive
front-panel stickers are
available as optional
extras.
2
1. FD28606 Blanc-Rouge
couleur sélectionnable du LED
Optimisation pour une
consommation
minimum
d'énergie.
17 types d'étiquettes autoadhésives disponibles pour
chaque option de panneau
frontal.
Nueva gama de Señalización
y Balizamiento
New
СВЕТОДИОДНЫЙ СВЕТИЛЬНИК
Nuestro nuevo SEÑALIZADOR
LUMINOSO incorpora la última tecnología LED y ha sido
especialmente concebido
para guiarnos en espacios
oscuros. Se puede instalar
para señalizar en habitaciones, escaleras, zonas de paso
u otros lugares . Disponemos
de dos tipos de señalizadores:
Наши
СВЕТОДИОДНЫЕ
СВЕТИЛЬНИКИ разработаны
для установки в рамки FEDE.
Они могут располагаться в
комнатах, на лестничных
маршах, коридорах или
любом другом помещении, где
необходимо ориентирующее
освещение. Светодиодные
светильники доступны в двух
вариантах.
1. Nuevo modelo FD28606:
Blanco-Rojo color seleccionable de LED.
1. FD28606 Красный/белый
цвет горения светодиодов
2. Nuevo modelo FD28607:
RGB color cambiante de LED
Una gama muy eficiente que
garantiza la optimización del
consumo de energía.
Ofrecemos 17 tipos de etiquetas autoadhesivas para
cada opción del panel frontal, que adicionalmente se
pueden personalizar.
2. FD28607 Светодиоды
с RGB-контроллером для
изменения цвета
Все светильники отличаются
исключительно
низким
энергопотреблением.
Дополнительно
возможна
наклейка пиктограммы с 17
различными обозначениями.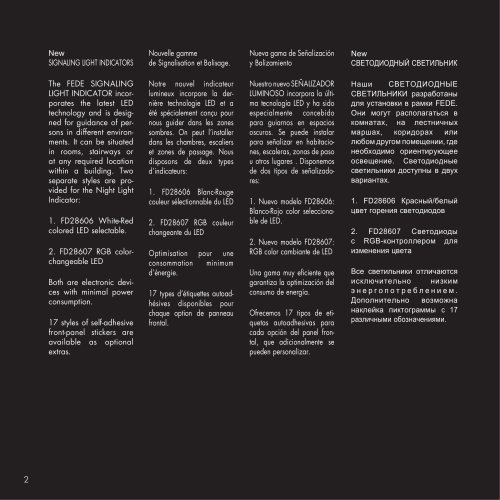 Text version
All FEDE catalogues and technical brochures