Booth:
FAGERHULT

Avion -
16 Pages
Playing with lines
Avion is a new concept in luminaire design
where the focus is drawn to the long sides
rather than the ends. The thin lines and the
concaved edges provide the essence of the
design while the distinctive colour contrasts
along the side attracts attention and
enhances its form.
The rise at the top of the luminaire houses
the light sources and technical solution,
facilitating the functionality and light distribution
while limiting the visual height.
Avion is available in white, black and grey
variations.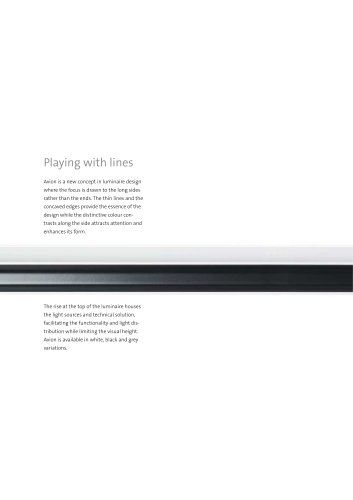 P. 1

avion– new forms of office lighting

P. 3

Caught inweightlessnessFagerhult's Avion has a delicate beautymasking a robust design. An elegant flowof light which creates an impression ofweightlessness,...

P. 6

A systematicapproachFagerhult are committed to developingcomplete lighting systems suitable forvariousrequirementsand applications.Behind Avion's...

P. 9

Avion 100 Avion 80 Avion 50 Avion 20 Avion 100 Avion 80 Avion 50 Avion 20 Avion 0One form, onecomplete lightingsystemIt is imperative luminaires such as...
Text version
All FAGERHULT catalogues and technical brochures
PLEIAD G3

16 Pages

LIGHT FOR CARING HEROES

60 Pages