Booth:
Fabric Architecture
Pow Wow -
2 Pages
pow wow Four below ground concrete foundation pads for four steel base
plates. Please request General Arrangement drawing for more
information. Foundations Manual Lifter/Stacker
Scaffold Tower or Podium Steps The Pow-Wow can typically be installed in 1 day, on to concrete
foundation pads by others. Requires good access for light plant
equipment and installation. Plant Machinery Installation Demountable shade-net material available in 6 colours, in both fire retardant and non-fire retardant specification. Life expectancy of 5 to 10 years. Fabric canopy options Technical details:
Framework Mild steel galvanised bases, BZP fixings Framework is mild steel, in either a galvanised finish or polyester
powder coated to most RAL colours or pressure treated timber masts
are availble. Fittings 5m x 5m Demountable Sand-pit Cover
Sun Shade
Outdoor Classroom Size options Typical Applications Economical Pow-Wow structure is an idealsun shade for green and urban spaces. The
supporting framework is steel or available
with optional timber masts. Pow-Wow - 5m www.fabricarchitecture.com >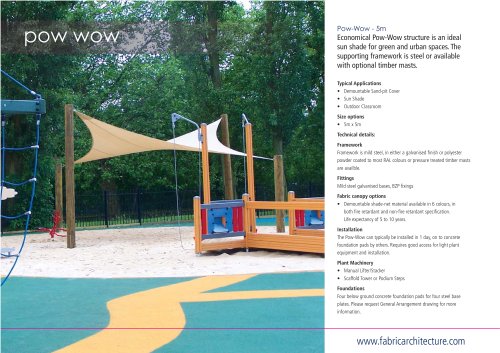 P. 2

fabric architecture Sail canopy is easy to store and fixto masts Demountable Canopy Unit B4 Nexus, Gloucester Business Park, Hurricane Rd, Brockworth,...
Text version
All Fabric Architecture catalogues and technical brochures
Archived catalogues