Booth:
Fabric Architecture
Pagoda -
2 Pages
pagoda 4 section The Iconic Pagoda structure is a truly multi-functional and modular canopy - it can be extended
in infinite width and lengths to create both clear
span cover and cover with integral supports Pagoda - 5m modular Four below ground concrete foundation pads for four steel legs. Please
request General Arrangement drawing for more information. Foundations ? ? The Pagoda can typically be installed in 1 day, on to concrete
foundation pads by others. Requires good access for light plant
equipment and installation. Plant Machinery Installation ? ? Fabric canopy options Technical details:
Framework Marine grade (316) stainless steel fixings plus anodised aluminium
extrusion. Legs are mild steel, in either a galvanised finish or polyester powder
coated to most RAL colours. The canopy framework is anodised
aluminium. Fittings ? Size options ? ? ? Typical Applications Scaffold Tower or Podium Steps Manual Lifter/Stacker Environmentally friendly Solar Glass Weave fabric, in off-white colour only, with a life expectancy of 30 years. PVC coated polyester, available in 8 colour-fast shades, with a life expectancy of 20 years. 5m x 5m (4-sections) - Infinitely expandable Performance Area Meet & Greet Shelter Outdoor Classroom www.fabricarchitecture.com ? ? ? Shaded Focal Point Walkway Play Area >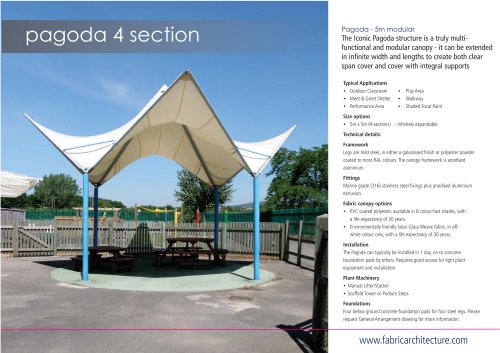 P. 2

fabric architecture Award winning canopy is striking andprovides excellent shade and shelter Iconic Form Unit B4 Nexus, Gloucester Business Park, Hurricane...
Text version
All Fabric Architecture catalogues and technical brochures
Archived catalogues