Booth:
Fabric Architecture
Hull -
2 Pages
hull walkway Two below ground concrete foundation pads for two steel legs.
Please request General Arrangement drawing for more information. Foundations Cherry Picker or Scaffold Tower
Telehandler The Single Bay Classroom can typically be installed in 2 days, on to
concrete foundation pads by others. Requires good access for plant
machinery and installation. Plant Machinery Installation PVC coated polyester, available in 8 colour-fast shades, with a life expectancy of 20 years. Environmentally friendly Solar Glass Weave fabric, in a range ofcolours, with a life expectancy of 30 years. Fabric canopy options Marine grade (316) stainless steel fixings plus anodised aluminium
extrusion. Technical details:
Framework Fittings 5m x 3m
10m x 3m - expandable in 5m bays Framework is mild steel, in either a galvanised finish or polyester
powder coated to most RAL colours. Link Walkway
Waiting Area
Seating or Bicycle Cover Size options Typical Applications Modular and economic, the Hull Walkway isan expandable and simple solution. Hull Walkway - 5m x 3m www.fabricarchitecture.com >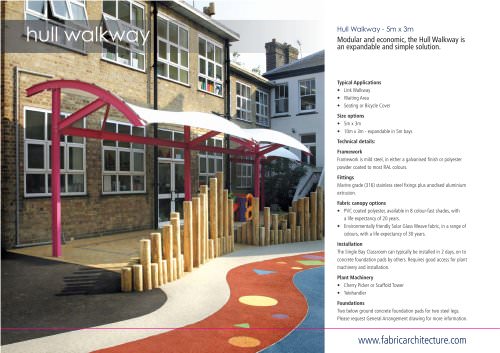 P. 2

fabric architecture Tilted, curve canopy ensuresoptimum shelter from the elements Cantilever Design Unit B4 Nexus, Gloucester Business Park, Hurricane...
Text version
All Fabric Architecture catalogues and technical brochures
Archived catalogues