Booth

Eiffelgres
Group: GranitiFiandre
cat2012 -
227 Pages
CATALOGO GENERALE
GENERAL CATALOGUE
CATALOGUE GÉNÉRAL
GENERAL KATALOG
CATÀLOGO GENERAL
ГЕНЕРАЛЬНЫ Й КАТАЛОГ
ALGEMENE CATALOGUS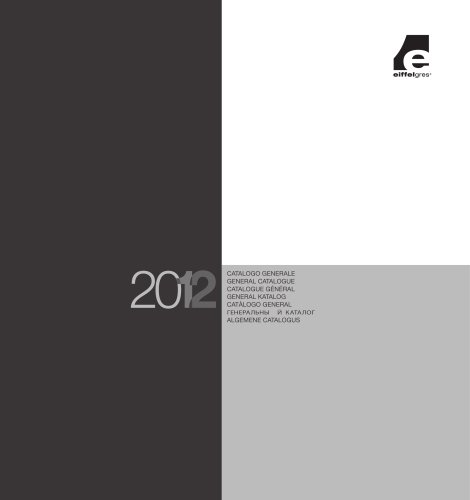 P. 2

Collezioni 2012collections 2012collections 2012Kollektionen 2012colecciones 2012коллекции 2012collecties...

P. 3

Contents Sommaire Inhalt Il Hl ICC

P. 4

ESTYLE 156 Atmosphere 158 FORMATI SUPERFIC! 210 INFORMAZIONI&SERVIZI 213 hi 111 híj!

P. 5

A method of production combining creativity with technology. A way of workingwith a focus on ecology and design. Acompany that expresses its dedication...

P. 6

Un percorso produttivo che unisce creatività e tecnologia.Un modo di lavorare che pone in primo piano ecologia eprogetto. Un'azienda che esprime...
Text version
All Eiffelgres catalogues and technical brochures