Booth
EFFEGIBI

Catalogo-Nuvola-Start -
29 Pages
POSIZIONAMENTO GENERATORE IL POSIZIONAMENTO DEL GENERATORE DI VAPORE E A COMPLETA DISCREZIONE DEL CLIENTE, FONDAMENTALE PER LA COLLOCAZIONE ALL'ESTERNO DELL'HAMMAM. Le positionnement du g٩nrateur de vapeur est la discr頩tion totale du client. Son emplacement l'extrieur du hammam est cependant fondamental. Es liegt ganz im Ermessen des Kunden, wo er den Dampfgenerator platzieren mochte. Wichtig ist jedoch, einen Standort aufierhalb des Hamam zu wahlen La ubicacion del generador de vapor, necesariamente fuera del Hammam, queda al arbitrio del cliente.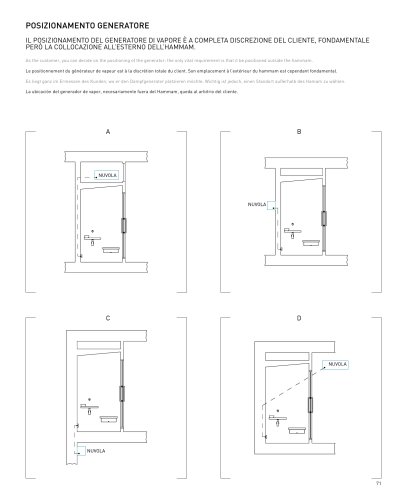 P. 24

DALL'ESPERIENZA EFFEGIBI E DALL'ATTENZIONE PER GLI ASPETTIESTETICINASCE LA LINEA DI GENERATORI DI VAPORE NUVOLA PLUS. IL DESIGN SOBRIO, IL COLORE BIANCO...

P. 25

_ z GENERATORI DI VAPORE NUVOLA PLUS E NUVOLA START z 67

P. 26

IL TUO HAMMAM CON IL GENERATORE DI VAPORE NUVOLA PLUS Your hammam with Nuvola Plus steam generator Votre hammam avec gnrateur de vapeur Nuvola Plus Das...

P. 27

MODELLO VOLUME VANO (metri cubi) POTENZA modle volume de la pice (m訨tres cubes) puissance modelo volume cuarto (metros...

P. 28

NUVOLA PLUS - NUVOLA START PANNELLO DI CONTROLLO NUVOLA START PANNELLO DI CONTROLLO INTERNO ALLA CABINA, CM 11x11x2,3 si to be placed inside the hammam...
Text version
All EFFEGIBI catalogues and technical brochures
Archived catalogues
Catalogo-Nuvola-Plus

29 Pages

Catalogo-Omniasteam

17 Pages

CATALOGO ARREDI

14 Pages