Booth
DURAVIT
Badmagazin -
178 Pages
Duravit UK Limited
Unit 7 Stratus Park · Brudenell Drive
,
Brinklow, Milton Keynes · MK10 0DE
Phone +44 845 500 7787
Fax
+44 845 500 7786
info@uk.duravit.com
www.duravit.co.uk
Duravit Bathrooms Australia Pty Ltd
U3 19-21 Bourke Road
Alexandria 2015 · Sydney NSW
Phone +61 2 8070 1889
Fax
+61 2 8070 1898
info@au.duravit.com
www.duravit.com.au
Leben im Bad
Living bathrooms
badmagazin
Duravit Showrooms: Hornberg and Meißen (Germany), Paris (France), New York (USA), Cairo (Egypt), Bizerte (Tunisia) and Shanghai (China). More Information? www.duravit.com/showrooms
If you have any questions, need help with planning or simply want to nd out more about Duravit, please contact your local
specialist dealer. You will nd a list of dealers who stock Duravit products on our website, however, we're also happy to send
you a copy of the list. For any further information please contact us.
COMPLETE BATHROOM SOLUTIONS,
WASHING AREAS, BATHROOM FURNITURE,
BATHTUBS, SHOWER TRAYS, ACCESSORIES,
WELLNESS PRODUCTS.
Best.-Nr. 001273/82.05.12.55.1 · Printed in Germany · We reserve the right to make technical improvements and enhance the appearance of the products shown.
UK: Phone +44 845 500 7787 Fax +44 845 500 7786, info@uk.duravit.com, www.duravit.co.uk
,
Australia: Phone +61 2 8070 1889, Fax +61 2 8070 1898, info@au.duravit.com, www.duravit.com.au
T
ABOU
H OW
A NEW ?
OM
ATHRO
B
www.badmagazin.com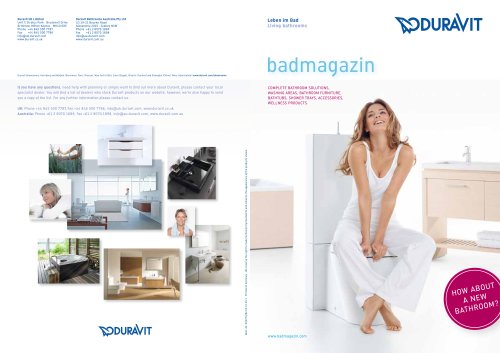 P. 2

Why do people wish each other health and happiness? Perhaps because,] despite prosperity, success and other promises, there is nothing more valuable....

P. 3

BAD MAGAZ IN Editiom SANITARY CERAMICS EVERYTHING FOR THE WASHING AREA & CO: WASHBASINS, HANDRINSE BASINS, TOILETS AND BIDETs 1930...

P. 4

LIFE IS AN ADVENTURE. OURS STARTED IN 1817. badmagazin 7

P. 5

8 badmagazin TRADITION ANDTHE REGION BEHIND THE DURAVIT BRAND. "Hand made" quality assurance. Even though we're living in an age of...

P. 6

(from left to right) Matteo Thun, Philippe Starck, Herbert Schultes, Lord Norman Foster, Phoenix Design, Prof. Frank Huster, EOOS, Andreas...
Text version
All DURAVIT catalogues and technical brochures
Archived catalogues
LIE BACK AND RELAX

15 Pages

NEWS EDITION 2

31 Pages

BadMagazine Duravit

171 Pages