Booth
Dunlopillo

brochure 2011/2012 -
28 Pages
What's so special about our beds and pillows?
The answer is Dunlopillo latex, the ultimate mattress and pillow material.
Imagine sleeping on a bed that instantly moulds itself to jour body contours,
changing its shape throughout the night as_you move to always ensure a
perfect sleeping posture.
As well as givingyou a sense of glorious comfort, this gentleyet positive
support has a very practical benefit that is the secret to improved sleep:
it actually reduces pressure across jour body, which otherwise shuts off
capillary blood flow
Without this loss of circulationyou are much less likely to toss and turn
through the night. This superb pressure relief also helps to bring oxygen and
nutrients to your muscles, soyou awake feeling recharged and renewed.
Dunlopillo latex also makes the ideal pillow material, ensuring that
you enjoy the same level of comfort from head to toe. Our pillows keep their
shape and size for many years, soyou can experience the same feel every night
Instant pressure relief
Dunlopillo latex gives instant pressure relief, unlike memory foam which takes
time to respond toyour body heat before it works. Furthermore, Dunlopillo
latex then instantly reacts to every movementyou make, so whichever position
you sleep inyou'll enjoy a healthy night's sleep for many years to come.
Hypo-allergenic to reduce allergies
The natural anti-microbial properties of Dunlopillo latex means that the dust
mites, bacteria and fungi that usually find a home in mattresses and pillows
keep away. This helps to alleviate allergies and makes it particularly beneficial
ifyou suffer from respiratory problems.
Independent support foryou andyour partner
Dunlopillo latex mattresses also provide truly independent support. Whenyou
move.your partner's side of the bed doesn't, soyou can move freely without
disturbing each other.
Cool durability for a wise investment
You will find that Dunlopillo latex is incredibly longlasting, holding its shape
for many years. The aerated, well ventilated interior also dissipates body
moisture to keepyou cool andyour mattress and pillows fresh and dry.
We are so confident in Dunlopillo latex that every bed and pillow comes with
a full five-year guarantee.
3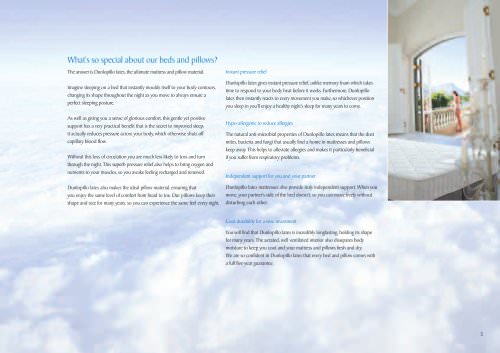 P. 1

DünloDíllO Beds & Pillows 2011/12 Collection

P. 2

The importance of Quality sleep You spend more time with jour bed than with any other piece of furniture, so_you probably realise the importance...

P. 4

A serious process for serious comfort The process of creating each Dunlopillo latex mattress or pillow is far from simple. We start by collecting...

P. 5

The latest technology in the Dunlopillo mattress range TempSmart range ^ Dual ZOne climate control with TempSmarf and harmönize Available...

P. 6

6Pamas Headboard (NU10 & piping NU11) by Stuart Jones

P. 7

Coronation Our deepest mattress features an additional pillow top for even more support. Available in medium or firm comfort options. Interior Solid...

P. 8

8Wave Headboard (Cream Leather) by Stuart Jones
Text version
All Dunlopillo catalogues and technical brochures
Archived catalogues
Dunlopillo Collection 2011

28 Pages

Dunlopillo 2008 Collection

10 Pages

Dunlopillow 2006 brochure

32 Pages