Qik -
8 Pages
4 Qik Automatic Barriers
The balancing system uses a single compression spring.
Five (differently coloured) springs are available. These
springs, when correctly positioned and adjusted, allow the
arm to be correctly balanced according to its dimension.
The system can be installed either on the right or on the left
hand side by simply changing its position.
Two limit switches fitted to the alternating current version
and one encoder to the direct current version allow further
adjustments to the arm to be made in order to satisfy all
possible requirements. Qik is also fitted with two adjustable
mechanical stops.
Clean look and attention to details for heavy duty
applications
All rivets are made of stainless steel and have no welding to
ensure long life and maintain their features unaltered. The
monobloc aluminium die-cast reduction unit ensures easy
installation, longer life and easy cleaning.
Over a million operations ensured by the gear motor
The low stress reduction unit ensures a very high number
of operations. The test carried out on the unit has achieved
with ease a staggeringly high number of operations, over
1,500,000, as shown in the picture to the right.
An access system built with safety in mind
The Qik barriers, when matched to the "LAN control
systems", solve all access problems and are very easy to use.
To allow employees and key customers to operate the barrier,
a wide range of solutions are available: a remote control, a
traditional key or keypad operated selector switch, a "LAN
transponder" system or a "coin" system, which allows the
barrier to be operated only once. This is a great solution for
hotels, sport centres, shops and restaurants, visited by users
who need temporary, quick and simple access.
Furthermore, the "magnetic loop" system is inherently very
practical and simple to use.
The detector, when installed on the pavement, allows the
exit barrier to be automatically operated when a vehicle goes
over it, thus ensuring a regular flow of vehicles and avoiding
unwelcome queues.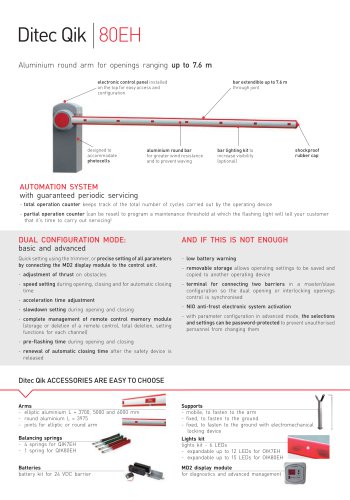 Text version
All DITEC catalogues and technical brochures