Qik -
8 Pages
Qik Automatic Barriers 3
Safe and reliable
The new aluminium arm has been designed to avoid any
shearing problems, thanks to a rubber guard located in the
top and bottom section and to a newly designed rounded
rotation pin.
The arm, round or elliptical, can be up to 8 metres long.
The new, elliptical shape of the barrier arm ensures better
wind resistance, thus avoiding any swinging in the 6 metre
version.
The arm is fitted with a rubber end plug and a provision for
accessories.
To ensure more visibility in the more demanding applications,
the direct current version is fitted with an arm lighting kit: the
LED goes off when the arm is up; it flashes when the arm is
moving and is continuously lit when the arm is down, in order
to enhance its outline.
The pickled, metallic colour painted sheet metal does not
degrade with time, despite adverse weather conditions, and
gives Qik a clean look.
The key operated lever release system can be promptly
accessed from the inspection side; fitted with a cover plate,
the system can safely handle all emergencies in case of
power failure.
The top structure has a provision for an aerial to be installed
to avoid any vandal attacks.
The new cabinet features large dimensions, to cater for the
need for greater sturdiness and convey stronger-impact
aesthetics. The electronic panel is positioned on the top
part of the barrier at a height that permits easier access to
components and therefore allows conveniently carrying out
setting and maintenance jobs.
Smartly designed, yet practical and safe, to ensure a long life.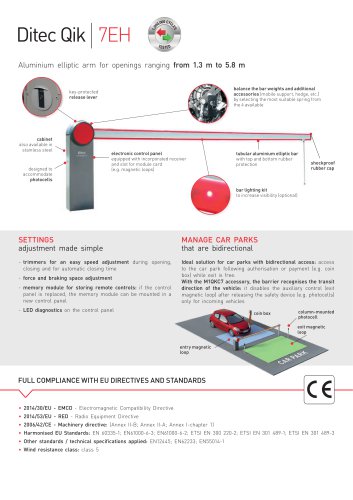 Text version
All DITEC catalogues and technical brochures
Archived catalogues
Strip - Flap

6 Pages

Traffic - Energy

12 Pages

Sector - Smart - Flash

12 Pages