Booth
DIMA SPORT
Catalogues

News

Exhibitions
Athlétisme 2010 -
88 Pages
04/88 INTRODUCTION / DIMASPORT_2010
JUMPING
JUMPING
HIGH JUMP SMALL EQUIPMENT
KNOWN AND RECOGNISED FOR BOTH THEIR LANDING QUALITY AND DURABILITY,
OUR LANDING MATTRESSES ARE MANUFACTURED IN OUR WORKSHOPS
TO A DEMANDING LEVEL WHICH MAKES OUR LANDING SYSTEMS THE
MOST HIGHLY APPRECIATED. ATHLETICS PARTNER AND SUPPLIER, OUR
EXPERIENCE AND EXPERTISE MAKE US THE SPECIALIST YOU REQUIRE.
LONG JUMP
HIGH JUMP UPRIGHTS
HIGH JUMP LANDING SYSTEMS
THE VAULTING POLES
POLE VAULTING SMALL EQUIPMENT
POLE VAULTING UPRIGHTS
POLE VAULT LANDING SYSTEMS
THE MADE TO MEASURE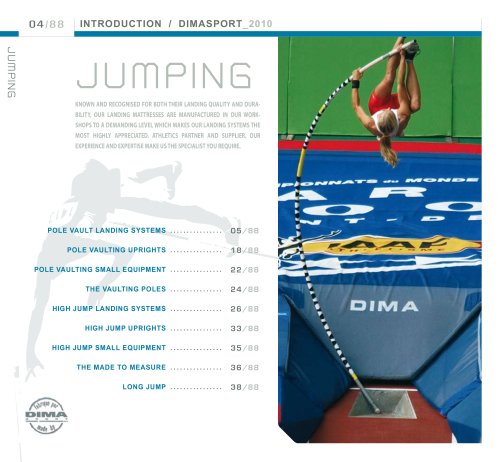 P. 1

SPORTEQUIPMENTGaragesRunningThrowingStadium environmentJumpingStadium kit / Athle packSelection guideSales terms

P. 2

INTERNATIONAL COMPETITIONSJeux de la Francophonie - Beyrouth LIBAN - 20096th European Athletics Under 23 Championships - Debrecen HUNGARY - 200715th Asian...

P. 3

GUIDE OF CHOICESTADIUM KIT / ATHLE PACKSTADIUM ENVIRONMENTTHROWINGRUNNINGGARAGESJUMPINGTO ORDERSUMMARY40 years on the track, 40 years of close relationship...

P. 5

INFORMATION / DIMASPORT_2010 05/88JUMPManufacturing quality and the materials used (foam and fabric). To comparelanding systems one needs to take into...

P. 6

A LITTLE ADVICEDIMA POLE VAULTING LANDING SYSTEM RECOMMENDATIONSThe dimensions of the landing system is to be adapted to the standard ofthe athletes and...

P. 7

CONCEPT - IV -F.F.A. standard and Level 2 I.A.A.F. approved – I.A.A.F. certified N° E-99-0075Prestigious mattress with rounded shapes. This...

P. 8

08/88QUELQUES CONSEILSSTANDARD POLE VAULT LANDING SYSTEMSSTANDARD POLE VAULT LANDING SYSTEMS / DIMASPORT_2010Designed and manufactured by Dima, our landing...

P. 9

Ref 1380209/88JUMPINGMEETING SINGLE COVERCOMFORT PLUSF.F.A. standard and Level 1 I.A.A.F. approvedCOMPOSITION : 5 airfoam elements encased in a single...
Text version
All DIMA SPORT catalogues and technical brochures
Sports Equipement 2013

51 Pages
Archived catalogues
TRACK

88 Pages

New Catalogue 2007

88 Pages