Mobile Serving Solutions Shelleysteel? and Shelleyglas? -
8 Pages
Shelley Solution Systems
®
(800)733-8821•www.delfield.com
You can mix and match Delfield components to create the ideal line for your space and
changing menu requirements. Shelley Solutions from Delfield offer you a wide range of
units engineered to fit together smoothly.
You're not limited by your
imagination. And we won't
limit your options with
Shelley equipment. Dare
to dream with Shelley
Solutions and create an
affordable foodservice line
that increases student
participation and creates
efficient workflow while
saving staff time and labor.
• Heated Serving Counters
• Refrigerated Cold Pan Serving Counters
• Hot/Cold Combination Counters
Shelleyspeed™ from Delfield :
• Ice Cooled Hot/Cold Combination Counter specialty needs for
Serving
schools using prepackaged
• Frost Top Serving Counter
foods.
• Ice Pan Serving Counter
Reach-in Refrigeration:
All your needs at one stop!
• All Purpose Counters
Delfield's complete line of
complimentary refrigeration
• Milk Counters
units is available for your
• Ice Cream Counters throughs,
operation – pass
roll-ins, roll throughs, reach-ins,
• Milk and Ice Cream Counters
heated and refrigerated units –
• Cashier Counter
any configuration
to suit
• Carving Counter
your
• Tray Stands
needs.
• Beverage Counters
Line Up the Possibilities
Room to fill and a range of
appetites to satisfy? Add
standard specialty units to
give variety to the menu
and style to the line. Need
to move? A mobile unit
can serve as an additional
foodservice focus outside
the cafeteria for special
occasions or sporting events.
Tight on space?
Put both hot and cold
units in one base.
• Work Tables
For actual specifications and dimensions, visit our Web site: www.delfield.com.
Create with Quality
Look inside to see how Shelley Mobile Serving Equipment can satisfy
your creative needs with versatility, color and an endless variety of
themes. And it is an investment that lasts:
• Delfield is committed to customer needs.
• Rugged, long lasting and durable equipment.
• Quality is built in and followed by reliable service.
• Add the pizzazz with canopies, colors, themes and design packages.
Delfield
™
980 S. Isabella Rd.; Mt. Pleasant, MI 48858 U.S.A.
The line that works for you
We're Right
in Line with
Your Needs
Call Today for a
Creative Consultation
Delfield can bring our highquality, versatile equipment
in line with your creativity
and foodservice expertise.
Call today and let's talk
about how our value,
performance and
versatility add up to
the best foodservice
operation for you.
Delfield
™
SOLUTIONS
Delfield provides many of the operational solutions from Manitowoc Foodservice, a global company dedicated to
bringing value to foodservice operators by equipping them with highly individualized real-world answers that enhance
menus, service, profits and efficiency.
FPO
SERVICE
Delfield products are backed nationwide by STAR Service. This network of certified service agents provides fast
response with factory-trained experts to assure your equipment will be fixed right the first time. STAR service agents
guarantee their work and use genuine OEM parts for best equipment performance and longer life.
To learn how Manitowoc Foodservice and its leading brands can equip you, visit our global web site at
www.manitowocfsg.com then find the regional or local resources available to you.
©2008 Manitowoc Foodservice Inc. except where explicitly stated otherwise. All rights reserved.
Delfield® reserves the right to make changes in design or specifications without prior notice.
©2007 The Delfield Company. All rights reserved. Printed in the U.S.A.
DBSHELLEY 01/09
Mobile Serving Solutions
Shelleysteel™ and Shelleyglas™
®
You Have a Lot on the Line.
Pick Shelley
by Delfield
for Top-line
Quality
Let's face it, kids are rough on your
operation. Delfield makes your
serving line of rugged materials
that stand up to abuse, while
offering the attractive, convenient
flexibility you need to speed up
the serving process, increase
participation and compete with
other eating options. Delfield
understands your challenges
and makes the equipment that
meets your needs and budget
requirements.
Choose Shelley for Safety
Because food safety is always on
the line, Delfield has
equipment options
to help maintain
proper NSF2, NSF4
or NSF7 hot or cold
temperatures.
Choose Shelley for Versatility
You want equipment with kid-appeal
so customize your lineup with Shelley's
huge variety of finishes, colors and
graphics - all appealing to your toughest
critics. Delfield's Shelley line gives
you cost-effective interchangeable
configurations and merchandising
opportunities so you serve up a
lively mix,
much like
a food court
atmosphere.
Choose
Shelley for
Affordability
Bright, well-designed Shelley equipment
meets your needs and won't break your
budget. Choose standard-size bases and
tops then group them for a wide variety of
menus, configurations and themes. Save
even more: minimize staff time and labor
with equipment that is easy to set up, clean
and maintain.
When Everything's On The
Line - Choose Shelley
Safety. Service. Satisfaction. It's all on the
line. That's why you'll choose Shelley by
Delfield, with affordable solutions for
a foodservice lineup that's durable,
versatile and always appeals to your kids and your budget.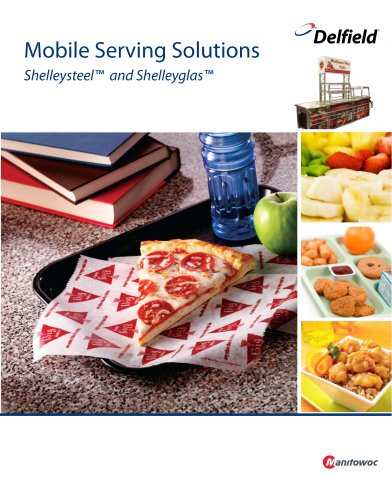 Text version
All Delfield catalogues and technical brochures
Archived catalogues
Service and Installation Manual

20 Pages

Drop-Ins

9 Pages