Catalogues
News
Exhibitions
SolidWorks Education 2010–2011 -
2 Pages
SOLIDWORKS EDUCATION PROGRAM
What's New in SolidWorks Education 2010–2011
Dassault Systèmes SolidWorks Corp. recognizes that today's
students are tomorrow's decision-makers and industry leaders. As
the leader in 3D modeling software, we are committed to providing
the best learning resources and the most innovative CAD software
solutions to students and educators worldwide.
SOLIDWORKS 2010 PREMIUM AND
SOLIDWORKS SIMULATION PREMIUM
The SolidWorks Education Program combines the SolidWorks software suite of tools
for design, simulation, engineering analysis, and communication.
BENEFIT: SolidWorks is dedicated to helping educators focus on student learning.
SOLIDWORKS SUSTAINABILITY
SolidWorks Sustainability considers how and where materials are produced, parts
are manufactured, and products are used and discarded. Empowered by SolidWorks
Sustainability, your students to analyze the future environmental impact
of their designs.
BENEFIT: Students instantly understand the environmental impact of their SolidWorks design in real time.
SOLIDWORKS STUDENT ACCESS INITIATIVE
SolidWorks Student Access provides SolidWorks software to students outside the
classroom both on and off campus.
BENEFIT: Student Access expands lab resources and allows students to collaborate anywhere.
CERTIFIED SOLIDWORKS ASSOCIATE (CSWA)
CERTIFICATION ON SUBSCRIPTION
The CSWA Program provides the skills users need to work in the fields of design and
engineering. In addition to hand-on tutorials, the CSWA Program offers instructor
resources, and preparation for the CSWA Exam.
BENEFIT: Prepares students for workplace demands and motivates them to continue learning.
INSTRUCTOR GUIDE TO TEACHING SOLIDWORKS AND
STUDENT GUIDE TO LEARNING SOLIDWORKS
The curriculum enables educators to teach an introduction to 3D solid modeling,
visualization, animation, and simulation.
BENEFIT: Focused on the educator, guides contain lessons, presentations, assessments and tips.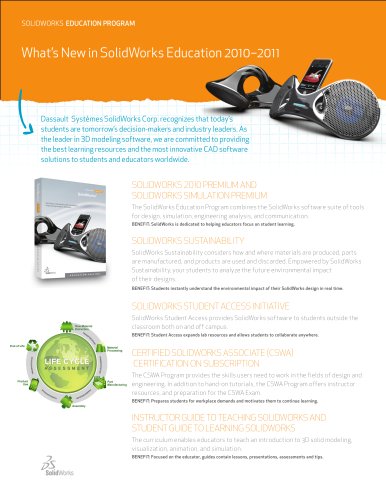 P. 2

SolidWorks is a registered trademark of Dassault Systèmes SolidWorks Corp. All other company and product names are the trademarks or registered trademarks...
Text version
All Dassault Systèmes SolidWorks Corp catalogues and technical brochures
SOLIDWORKS SIMULATION

12 Pages

SolidWorks Premium 2010

4 Pages