Booth
COVER POOLS

Catalogues

News

Exhibitions
aftermarket brochure -
8 Pages
PICK YOUR POWER
Electric motor
Cover-Pools electric system
Our standard, exclusive electric drive system has an advanced 3/4 hp, high-
torque, waterproof motor. It comes with your choice of a slip clutch or auto-shutoff
feature. The slip clutch is for adjustable power and releases torque from the
motor if the cover meets an obstacle. The auto-shutoff uses advanced circuitry
with a backup amp limiter to act as an electronic slip clutch if obstructed.
Hydraulic motor
Cover-Pools hydraulic system
Cover-Pools powerful hydraulic system provides more compact components
and increased space efficiency. Its sensitive pressure-release system allows
for adjustable power and a built-in automatic shutoff. Lower operating pressure
provides maximum safety.
Step-Saver® Manual Pool Cover
Step-Saver manual reel cover
The Step-Saver is an economical alternative to the automatic cover, offering
the same benefits at about half the price. It's a manual coverthat's convenient
enough for daily use since there are no bothersome straps, no sandbags, and
no anchors.
The Autosave spa and swim spa cover offers the same safety and energy-saving
benefits as a full-size automatic pool coverwith a more compact mechanical
system. Designed for space-restricted installations, the Autosave safety cover
can be used on new and existing spas, swim spas, and small pools.
6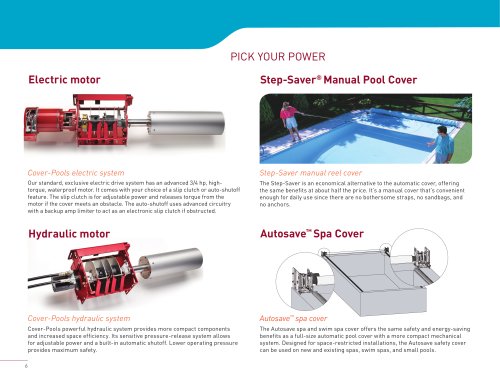 Text version
Archived catalogues
pool cover brochure

24 Pages

Cover-Pools Brochure

13 Pages