Simplebus Color -
86 Pages
Simplebus Color |Powercom Entrance panel
1026 Electronic card key for Art. 3335 >
Electronic proximity key in credit card format. 5 cm reading distance. To be used with Art. 3335 1027 Electronic key fob for Art. 3335 >
Electronic proximity key. Key ring type format and dimensions. 5 cm readingdistance. To be used with Art. 3335 1028 Programmer for Art. 3335 >
Optional programmer for enabling / disabling the electronic keys for Art. 3335.Supplied by batteries not provided. Only required if you want to disable fobs ӓ,
or to change the time of the door opener. Can only be used with Art. 3335. 1249/A Software >
Software on CD ROM to be installed on a PC, complete with cable for connectionbetween the digital module art. 3340, 3342, 3070/A or 3072/A and the 9 PIN serial
of the PC. It allows the name directory to be programmed rapidly and
management of the archives on a PC.
Fitted with cable to adapt the USB port of the PC to 9 PIN serial. 18 size="-1">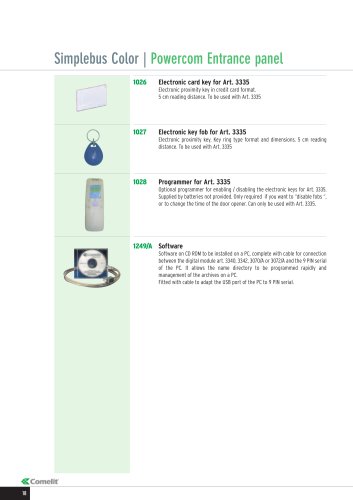 P. 14

POWERCOM Powercom 13 13 >

P. 15

Simplebus Color | Powercom Entrance Panel 3110 Flush-mounted box for entrance panel No. Modules Article Dimensions 1 3110/1 127x127x45...

P. 16

3639 Pillar for Powercom entrance panel height 170 cm Standard made of extruded aluminium provided with aluminium rain roof and basefor fixing to the floor...

P. 17

Simplebus Color |Powercom Entrance Panel 3324 Plain module >Dimensions 112x89.5x22 mm 3325 PTT module >Dimensions: 112x89.5x22 mm 3326 Module illuminated...

P. 18

3344 Name directory/information module >Module illuminated from the rear with blue LED, complete with label for writing thenames and codes of the users...

P. 20

Notes POWERCOM 19 19 >

P. 21

Vandalcom is Comelits vandalproof stainless steel entrance panel,specially studied to resist even the most violent attacks. It is availablein the audio,...

P. 22

VANDALCOM Vandalcom 21 21 >

P. 23

Simplebus Color |Vandalcom Entrance panel 3159 Stainless steel surface-mounted housing No. ModulesArticleDimensions 13159/1142x142x58 mm23159/2142x254x58...

P. 24

3064/A 4-pushbutton module >Module made of double 2.5 mm stainless steel plate, completewith 4 traditional pushbuttons for the Simplebus digital system.Has...
Text version
All Comelit catalogues and technical brochures
Archived catalogues