Planux -
11 Pages
6101B | PLANUX monitor in BLACK
6112 | Desktop base with 8 terminals for PLANUX monitor
3.5" COLOUR monitor with OSD. Equipped with "sensitive touch" technology and full-duplex handsfree function. Audio, ringtone, colour, brightness and contrast controls. You can select the ringtone you
want from a choice of 7 different tunes. Equipped with door lock release pushbutton with led, audio
enable/disable pushbutton with led, privacy or doctor function (selectable from menu) pushbutton,
automatic switch-on pushbutton, 2 spare pushbuttons for various uses and 4 pushbuttons for menu
access, navigation and confirmation. The monitor can be converted into a desktop version using art.
6112 or 6113. Dimensions 145x145x33mm.
Desktop base for converting the PLANUX monitor for desktop use. Complete with 2 m of RJ45
terminated cable for the use of RJ45 wall sockets and connection box. Dimensions: 145x190x120 mm.
6118 | Mounting kit for plasterboard walls
6101BM | PLANUX MEMOVIDEO, colour: ABSOLUTE BLACK
3.5" COLOUR PLANUX monitor with TOUCH-SCREEN for simple and complete control and customisation of functions; full-duplex hands-free audio function; audio, ringtone, colour, brightness and
contrast adjustment; date and time display. It has 1 key button with led, 1 audio enabling/disabling
button with led, 1 self-ignition button and 2 buttons for various uses. It also offers customisable polyphonic ringtones. Thanks to the memovideo function, it can also be used to record mini-videos from
the external unit on receipt of a call. It is supplied with an SD Card for storing recordings and for further
ringtone customisation. The monitor, used in conjunction with art. 6112, can be converted into the
desk version. The monitor requires an additional power supply. The power supply reaches the monitor
via a transformer (one for each monitor, art. 1212/B, 5 DIN modules). It is also possible to use a central
power supply unit for all monitors (art. 1536, 8 DIN modules, max. 8 monitors). Colour: ABSOLUTE
BLACK. Dimensions 145x145x33 mm.
6117 | Flush-mount box for PLANUX monitor
Flush-mount box for PLANUX monitor. For use with with tilt accessory art. 6122. Dimensions:
132x132x50 mm.
6120 | Surface housing for PLANUX monitor
Surface housing for PLANUX monitor. Cannot be used with tilt accessory art. 6122. Dimensions:
145x145x26 mm.
6101W | PLANUX monitor in WHITE
6121 | Surface Housing for PLANUX monitor
3.5" COLOUR monitor with OSD. Equipped with "sensitive touch" technology and full-duplex handsfree function. Audio, ringtone, colour, brightness and contrast controls. You can select the ringtone you
want from a choice of 7 different tunes. Equipped with 1 door lock release pushbutton with led, audio
enable/disable pushbutton with led, privacy or doctor function (selectable from menu) pushbutton,
automatic switch-on pushbutton, 2 spare pushbuttons for various uses and 4 pushbuttons for menu
access, navigation and confirmation. The monitor can be converted into a desktop version using art.
6112 or 6113. Dimensions 145x145x33mm.
Long bracket for wall-mounting of PLANUX monitor. For use with with tilt accessory art. 6122.
Dimensions: 145x145x45 mm.
6122 | Tilt accessory for PLANUX monitor
Accessory for tilting the PLANUX monitor, for use in conjunction with art. 6121 or flush-mount box art.
6117. Allows tilting of the PLANUX monitor up to a maximum of 20°. Dimensions: 136x136x40 mm.
6101WM | PLANUX MEMOVIDEO, colour: ALL WHITE
3.5" COLOUR PLANUX monitor with TOUCH-SCREEN for simple and complete control and customisation of functions; full-duplex hands-free audio function; audio, ringtone, colour, brightness and
contrast adjustment; date and time display. It has 1 key button with led, 1 audio enabling/disabling
button with led, 1 self-ignition button and 2 buttons for various uses. It also offers customisable polyphonic ringtones. Thanks to the memovideo function, it can also be used to record mini-videos
from the external unit on receipt of a call. It is supplied with an SD Card for storing recordings and for
further ringtone customisation. The monitor, used in conjunction with art. 6112, can be converted
into the desk version. The monitor requires an additional power supply. The power supply reaches the
monitor via a transformer (one for each monitor, art. 1212/B, 5 DIN modules). It is also possible to use
a central power supply unit for all monitors (art. 1536, 8 DIN modules, max. 8 monitors). Colour: ALL
WHITE. Dimensions 145x145x33 mm.
6101Z
PLANUX was also designed for people who want the utmost simplicity of use from their internal unit
and only want entry call and door lock release functions.
Templates
Classic
6114C | Bracket for wiring Simplebus Color for PLANUX monitor
6101L
The video door entry system is complete conversation privacy as standard. Handles local floor calls
and call repetition as standard. Dimensions: 96x106x17 mm.
White
6101N
Black
Templates
Prestige
6114CI | bracket with intercom function for wiring Simplebus Color for PLANUX
monitor
6101D
18
Accessories
The video door entry system is complete with conversation privacy. Handles local floor calls and call
repetition as standard. Dimensions: 96x106x17 mm.
Green Valley
6101E
Madre Perla
6101C
Wengé
6101J
Gold
Templates
Trendy
Accessories
6214C | Bracket for SIMPLEBUS COLOR wiring for PLANUX MEMOVIDEO
Bracket for Simplebus Color system, required for the PLANUX MEMOVIDEO monitor. Handles floor door
calls and call repetition as standard. Dimensions: 96x106x17 mm.
6101F
Rock Violet
6101G
Orange Sunshine
6101H
Royal Red
6101I
Blue Sky
19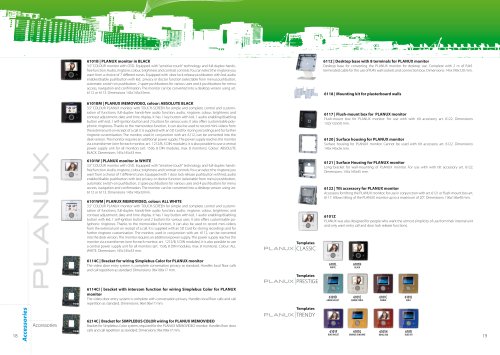 P. 5

The touch-screendoor entry monitorwith video memory serviceAttractive, simple and intuitive, Planux Memo representsthe evolution of door entry monitor...

P. 6

A monitor measuring just 145x145 mm and a 3.5" colourdisplay in several variants, designed to meet a comprehensiverange of aesthetic and personal...

P. 7

Planux was designed on the basis ofthe current and future needs of familiesand homes. High-quality technical andfunctional solutions translate into a vastrange...

P. 8

Technology that really makes youfeel at homeVersatility and personalisation are the guiding principles of Planux.This advanced monitor lies at the heart...

P. 9

Video door entry system with SIMPLEBUS COLOR wiring consisting of: - one audio-video input with digital call module complete with electronic name...

P. 11

13764T06.09Comelit Group SpAVia Don Arrigoni 5 - 24020 Rovetta S. Lorenzo - Bergamo - ItalyTel. +39 0346 750 011 - Fax +39 0346 71436 - www.comelit.eu...
Text version
All Comelit catalogues and technical brochures
Archived catalogues