Electrical Essentials -
24 Pages
electrical essentials >
GREAT ELECTRICAL IDEAS FOR ANYONE BUILDING OR RENOVATING BROUGHT TO YOU BY size="-2">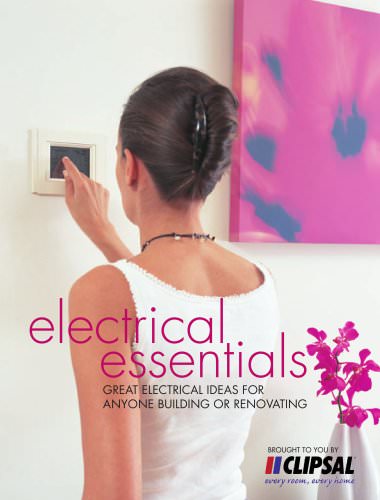 P. 2

COVER AND VASE PHOTOGRAPH: BLUE & BROWN (02) 9319 4476 2 >

P. 3

welcome! Building or renovating? Theres one area you canҒt afford to overlook your electrical needs. ALL TOO OFTEN, people who֒ve spent...

P. 4

enough power points? Too often, people move into their dream home and discover they dont have enough power points or fi nd them in the wrong place. raw...

P. 5

Long hallways and stairwells can be a pain. They too should have switches at both ends, so it doesnt matter which way you are travelling, you can turn...

P. 6

Design professionals know that when it comes to dcor, everyone is an individual. Theres no reason why switches and sockets can not be a part of your overall...
Text version
All Clipsal catalogues and technical brochures
Archived catalogues