| | |
| --- | --- |
| | |
Halogen downlight MODO FREE -
16 Pages
Componenti base del sistema sono le casseforme in lamiera metallica verniciate a polveri. Sono disponibili in lunghezze da 450 a 1500 mm offrendo un'ampia gamma di combinazioni.
The metallic plate powder coated recessed housing is available in lengths from 450 mm to 1500 mm offering a wide choice of possible combinations.
Modo Free Incasso l'apparecchio d'illuminazione in versione ad incasso della collezione Modo Free, gli apparecchi "fai da te" costituiti da vari pezzi da comporre liberamente. La struttura in lamiera verniciata, con incasso da 190 mm. Ideale per gli ambienti che richie設dono la massima flessibilit, quali spazi espositivi, centri commerciali, show-room, ecc.
Modo Free Incasso is the recessed version of the Modo Free family, the "do it yourself fittings made of many parts to be freely combined. The structure is a painted metal sheet with a 190 mm recess. It is ideal for those environments that ask for the highest flexibility, such as show-rooms, shopping centers, ecc.
Modo Free Incasso est un appareil d'clairage en version encastrable de la collection Modo Free, appareils "do it yourself", constitu੩s de diffrent types composer librement. La structure est r頩alise en tle vernie avec un encastrement de profondeur de 190 mm. Ils sont adapt鴩s tous les espaces d'exposition et partout o୹ la ncessit d'une grande flexibilit驩 est demande pour raliser des effets de lumi驨re.
Les boites d'encastrement en tle peintes avec une peinture 䭩poxy sont disponibles dans des longueurs de 450 1500 mm permettant un large ventail de compositions.
I componenti del sistema sono concepiti al fine di permettere un semplice montaggio all'interno delle casseforme da parte dell'installatore.
The components of the system are studied to permit an inside easy mounting by the installer.
Les composants du syst੨me, sont conus pour faciliter le montage dans les boites d'encastrement.
E' possibile posizionare le parti elettriche nella controsoffittatura successivamente al posizionamento della cassaforma, sfruttandone le feritoie laterali.
After the installation of the recessed housing it is pos筭sible to position the electrical parts in the false ceiling through the side slits of the recessed housing.
Possibilit de positionner les parties lectriques au faux plafond apr驨s la pose de la boite, en utilisant les fentes latrales.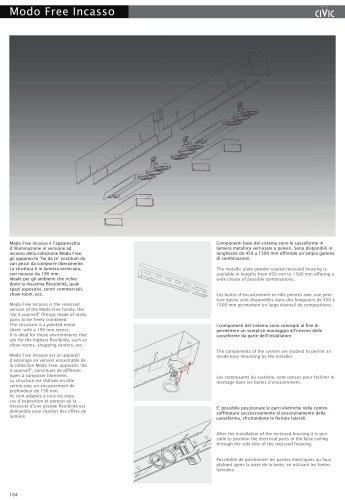 P. 2

mmmm ©©G fi! "-- w . 150 . 150 . 150 . 150 . 1200 ...

P. 4

107

P. 5

Im - / 485,2 - -121,3 3m 53,9 4m 30,3 5m 19,4 a: 109° 2x55W 12C 18C ...

P. 6

Colours Couleurs: Accessori / Accessories / Accessoires AAA.ALR035 (3 5W) AAA.ALR070 (70W) AAA.ALR1 50 (150W) Alimentatori...
Text version
All Civic S.r.l. catalogues and technical brochures
Archived catalogues