Booth
Civic S.r.l.
Fluorescent suspended luminaire THIN-S -
8 Pages
I modelli a sospensione possono ospitare due lampade per luce indiretta o diretta.
Thin-S un apparecchio di illuminazione,
per interni mono o bilampada
per fluorescenti T5, in versione
da parete o sospensione.
La struttura in estruso di alluminio
verniciato con testate ultrasottili
di alluminio.
Disponibile in diverse lunghezze e potenze per un utilizzo a luce diretta, indiretta, o diretta/indiretta. Grazie al suo design minimale Thin-S 訨 indicato in ambienti in cui si richiede una sorgente luminosa intensa e la minima percezione dell'apparecchio.
Thin-S is an indoor lighting fitting for one or two fluorescent T5 lamps, available for suspended or wall use. The structure is in painted extruded aluminium, with very thin aluminium end caps.
Thanks to its minimal design it is suitable for any environment where it is needed an intense lighting and the minimal visibility of the fitting.
Thin-S est un appareil pour une ou deux lampes fluorescentes T5, en version suspension ou murale. La structure est en profilͩ d'aluminium extrudͩe avec embouts de fermeture en aluminium. Grce son design minimal, il est adaptable o⠹ il est ncessaire d'avoir un clairage intense et o驹 il faut que l'on peroive au minimum l'appareil.
The suspended versions can host two lamps for indirect or direct lighting.
Les versions suspension peuvent accueillir deux lam砭pes, pour clairage indirect ou direct.
Oppure due lampade per luce diretta/indiretta.
Or two lamps for direct/indirect lighting.
Ou deux lampes pour clairage direct/indirect.
Quelli a parete ospitano invece una lampada per emissio驭ne asimmetrica.
The wall versions, instead, can host one lamp for asyr metric lighting.
La version murale, par contre, a une lampe pour clairage asymtrique.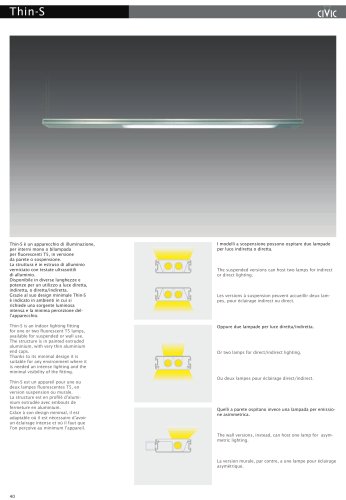 Text version
All Civic S.r.l. catalogues and technical brochures
Archived catalogues