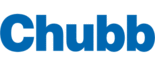 Booth:

Chubb
Group: UTC
Sentinel CA67 Control Unit -
2 Pages
Intruder Product Range
Chubb Sentinel 8 Control System
Features: Chubb Sentinel 8 Control System
Blank Polycarbonate End Station c/w modem, either with 32 2 programmable outputs (can be extended using 4 way output modules Max 4). Strobe setting confirmation: Indication to user that system is set by pulsing the strobe for a few seconds (Programming option). Separate bell tamper to detect compromise of the external sounder. Onboard communicator for signalling and interrogation purposes. Upload/Download compatibility, utilizing the advanced software package allows full system remote management to immediately identify or rectify any issues and increase service levels. Remote access by user authority. Complies with ACPO 2000 & ACPOS. DD243 Compliant. Service Timer: optional facility to notify customer when next service visit is due. Managed Reset: using remotely generated Anti-code. Engineer code lock in. Supports up to 4 output modules each having 4 changeover relays. EOL (End Of Line) selectable wiring format. 1 Common / Global tamper or separate alarm and tamper indication if EOL wiring is used. Series telephone line connection: maintains system integrity if panel is using a shared telephone line (connection option). character full English text LCD or twin 7 segment LED keypad (Keypad types can be mixed and matched on the same system). 8 fully programmable circuits. 1 full set and 3 part sets, including silent part set options. Separate full and part set exit times to meet your particular requirements. Chime function can be turned on or off by user. Two chime tone options (Useful to differentiate between circuits e.g. unique tone for front and back doors). 250 log event memory: Time and date stamped to monitor system use whilst meeting with insurance requirements. Up to 7 user codes on 4 priority levels providing capacity for multiple user operation, master user can simply add or delete these as and when required. Up to 4 remote keypads allowing user flexibility of keypad location. ACE compatible, for setting, un-setting and part setting via a purpose built infrared key-fob. The keypads offer FREE ACE compatibility as standard, without compromising levels of security (Key-fobs are available in addition to the keypad). Personal attack activation available through the keypads (Alternative alert function also available). Duress codes for all users (If required). Full system can be tested by the master user for complete peace of mind.
Panel LCD KeypadLED Keypad Power
Available Current Draw Current Draw (mA) 1000 30 40 >
Physical
Dimensions (mm) 270 x 230 x 85 120 x 115 x 26 120 x 115 x 26 Weight (kg) 1.5 0.3 0.3 >
Environmental
Temperature 0 - 50C 0 - 50аC 0 - 50C Humidity 90% 90% 90% Chubb is the UKВs largest provider of security and fire detection services and operates through a national network of branches. Each local branch team possess the best combination of skills and expertise together with a knowledge of your area. All backed up by an internationally recognized leading brand. This document is one of a wide range of data sheets designed to provide technical details on Chubb Electronic Securitys products and services. If you require any supplementary information, please contact your local Chubb representative. Alternatively for general sales enquiries, you can call our freephone. The Chubb policy is one of continuous development and consequently the information contained in this publication can be varied in detail. >
Freephone 0800 282494
Calls may be monitored for security purposes >
DS007/01/04 size="-1">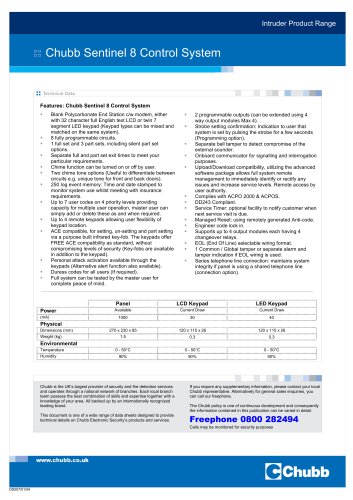 P. 1

Intruder Product Range > Chubb Sentinel 8 Control System Intruder Alarms | CCTV | Access Control | Integrated Systems Control Systems | Contacts...
Text version
All Chubb catalogues and technical brochures
Archived catalogues