| | |
| --- | --- |
| | |
PERLASTICTM TG -
2 Pages
2870 Forbs Avenue, Hoffman Estates, IL 60192
800.527.9948 | cetco.com/cps
IMPORTANT: The information contained herein supersedes all previous printed versions, and is believed to be accurate and reliable. For the most up-to-date information, please
visit www.CETCO.com. CETCO accepts no responsibility for the results obtained through application of this product. CETCO reserves the right to update information without notice.
© 2011 CETCO | PRINTED IN THE USA ON RECYCLED PAPER | FORM:PTGTDS - 02/11
TECHNICAL DATA
LINING TECHNOLOGIES | REMEDIATION TECHNOLOGIES | DRILLING SYSTEMS | BUILDING ENVELOPE CORROSION PROTECTION CONTRACTING SERVICES
DESCRIPTION:
PerlasticTM products by CETCO
Corrosion Protection Solutions are
a family of developmental corrosion
protection products for industrial
applications. The chemically resistant
asphalt-based formula provides
excellent barrier properties to
withstand many of the aggressive
chemistries found on industrial sites.
Perlastic Trowel Grade (TG) is a thick, trowelable
coating used alone or in conjunction
with Perlastic Spray Grade (SG) or Roll Grade
(RG) materials. Perlastic TG is best used to
properly prepare subtrates, such as crack
filling, bugholes, etc.
Perlastic TG comes in 3.5 gallon containers.
If applying multiple coats, please wait until
initial coat turns from brown to black.
Perlastic products are safe and
environmentally friendly since they are
water-based and contain low volatile organic
chemicals (VOCs). Perlastic products are
also economical since they can be painted
directly over cleansed mild rust, which
reduced labor costs and eliminates the risks
to health and safety. Surface preparation
techniques such as sand blasting are not
normally required. Since Perlastic is tough,
flexible and easy to apply, it can be used in
many different industries including mining,
agriculture, waste water treatment/storage,
power plants and fabricated structural steel.
APPLICATIONS:
Perlastic RG can be applied directly
to a prepared but rusted surface and
even to previously coated areas. If
applying over previously painted
areas, check for good adhesion.
Adhesion testing is recommended.
Perlastic TG is easily applied with a putty
knife or trowel. Scoop material out of
the pail with a trowel and apply to areas
needed to be filled. Smooth material
as much as possible to ensure a proper
finish. Allow to dry before applying
additional coats, or using Perlastic RG or
SG.
The Perlastic line of products are
formulated to provide a wide array
of chemical resistance. Please
refer to out chemical resistance
guide for additional information.
SURFACE PREPARATION:
Perlastic can be applied to most
substrates. New metal should be
washed with a degreaser to remove
any oils, then profiled with a wire wheel
or grinder. Rusted steel should be
pressure washed at 3000 psi or greater.
Concrete should be power washed
at 3000 psi or greater. Remove any
grease/oil stains with degreaser, rinse
with water. Allow to dry. Horizontal
surfaces should be sealed with a
concrete sealer, call for recommended
products. No sealer is needed for
vertical applications.
CAUTION:
For Industrial Use Only. Keep out
of reach of children. Avoid storage
below 45oF (7.2oC) and please
consult the MSDS sheet before using.
The Perlastic product requires eye shields,
gloves and a dust mask as the coating is
mildly alkaline. Keep a source of clean
water nearby for eye washing. Check with
Technical Services before coating for
compatibility issues for surfaces like coal
tar or other. If the surface is slick it will
impair adhesion along with standing water,
high humidity in an enclosed tank or the
presence of oils on metal surfaces for
examples. Do not allow materials to freeze
in containers.
Store Perlastic at site in strict compliance
with manufacturer's instructions.
When applying material below 45°F (7.2oC),
contact your local technical sales manager.
EQUIPMENT:
Perlastic TG can be applied with any flat
edged trowel or putty knife.
LIMITED WARRANTY:
CETCO warrants its products to be free of
defects. This warranty only applies when the
product is applied by Approved Applicators
trained by CETCO. As factors which affect
the result obtained from this product,
including weather, equipment, construction,
workmanship and other variables are all
beyond CETCO's control, we warrant only that
the material herein conforms to our product
speci.cations. Under this warranty we will
replace at no charge any product proved to be
defective within 12 months of manufacture,
provided it has been applied in accordance
with our written directions for uses we
warranties expressed or implied (including
PERLASTICTM TG
TROWEL-APPLIED CORROSION PROTECTION LINING
PerlasticTM TG is a companion product to the (SG)
and (RG) coatings. It is used to fill cracks and
can bridge up to 1/2 inches.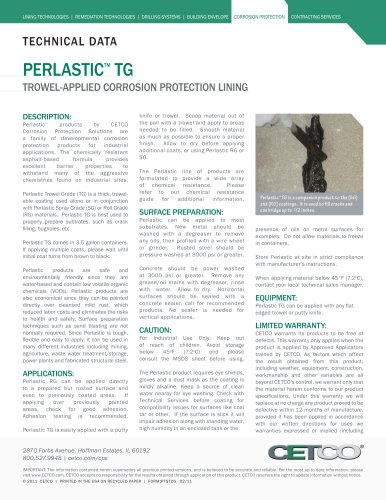 P. 2

2870 Forbs Avenue, Hoffman Estates, IL 60192800.527.9948 | cetco.com/cpsIMPORTANT: The information contained herein supersedes all previous printed versions,...
Text version
All CETCO EUROPE catalogues and technical brochures
Ultraseal

6 Pages
Archived catalogues