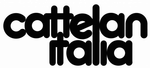 Booth:

cattelan italia
Group: Arketipo/cattelan italia
BOOK 02 -
329 Pages
sha ma I 43
Design Zenere & Danese
Credenza con ante
scorrevoli, un cassetto interno
e un ripiano in cristallo
trasparente. Top a sbalzo o
a filo dei fianchi. Top, fianchi
ed ante in wenghè, noce
canaletto, laccati bianco o
nero lucido. Ante anche in
cristallo acidato e specchiato
bordato in alluminio. Top,
ante e fianchi anche in cuoio
comedo campionario. Piedini
in acciaio inox lucido.
Sideboard with sliding doors,
one inner drawer and one
clear glass shelf. Top larger
than sides or at same level
than sides.Top, sides and
front doors in wenghè, walnut
canaletto, polished white or
black lacquered. Front doors
also in frosted and mirrored
glass with aluminium edges.
Top and front doors also
covered in leather as per
sample card. Feet in polished
stainless steel.
Credence avec portes
coulissantes, un tiroir et une
étagère en verre clair à
'intérieur. Top en bosselage,
ou juste aux côtés du meuble.
Top, portes et côtés en
wenghè, noyer canaletto
ou laqués blanc ou noir
brillant. Portes livrables aussi
en verre dépoli et miroitié et
cadre en aluminium. Version
completèment en cuir selon
échantillons. Pieds en acier
inox brillant.
Aparador con puerta
corredera, un cajón interrior
y un estante de crista
transparente. Sobre volado
o ras del lateral. Sobre,
lateral y puertas wenghè,
nogal canaletto, lacado brillo
blanco o negro brillo. Puertas
también en cristal translúcido
reflejado con borde en
aluminio. Sobre y puertas
también en cuero según
muestrario. Patas de acero
inox brillo.
Kredenz mit Schiebetüren,
eine innere Schublade und
ein Klarglasboden. Obère
Platte in zwei GröBe. Platte,
Türen und Seiten in Wenghè,
Nussbaum canaletto, weiB
oder schwarz glanzend
lackiert. Türen auch in
geatztem und verspiegeltem
Glas mit Aluminium Rand.
Obère Platte,Türe und
Seiten auch mit Lederbezug
laut Mustercarte. Fü6e aus
poliertem Edelstahl.
203 - . 210
P. 38

BOOK 02.indd 3811/04/12 12.31

P. 39

prismaBOOK 02.indd 393911/04/12 12.31

P. 40

Design Cà Nova Design Credenza in wenghè o accata bianca con piedi in acciaio inox. Disponibile con 2 o 3 porte con...

P. 41

legendBOOK 02.indd 414111/04/12 12.31

P. 42

SHAMAL LEATHERBOOK 02.indd 4211/04/12 12.31

P. 44

Design Emanuele Zenere Contenitori con base o pensili in legno laccato bianco o nero. Antine in cristallo nero o extrachiaro bianco...

P. 45

icebergBOOK 02.indd 454511/04/12 12.32

P. 46

Design Giorgio Cattelan Madia porta cartelle a quattro cassetti verniciata argento. Frontali dei cassetti in cuoio come da campionario....

P. 47

alteaBOOK 02.indd 474711/04/12 12.32

P. 48

blade consolle51diapason consolle64valentino consolle58valentinox consolle59BOOK 02.indd 48monaco consolle6111/04/12 12.32
Text version
All cattelan italia catalogues and technical brochures
BOOK 01

377 Pages

Indice 2012

46 Pages
Archived catalogues
cattelan_book1

366 Pages

cattelan_indice

36 Pages