cassette -
4 Pages
AN INNOVATIVE ELECTRONIC INTERFACEINSTALLATION AND MAINTENANCE UNDER CONTROL
Smart access for quick and easy maintenance
MyComfort. Ultra-light
The Carrier unit (up to 6.23 kW) weighs only 19 kg and can be installed in six quick and easy stages:
An easy-to use remote control for precision comfort manage-ment, which stores preferred settings in the memory. Fix the ties to the ceiling.Position the unit in the suspendedceiling and fix it to the ties.Adjust the height with the fixing nutsto align it with the ceiling.
Check that the alignment is correctand lock in place.Connect up the refrigerant pipes >
A perfect fit
The Carrier cassette is compatible with all suspended ceiling
systems in common use in shops and offices. It replaces one panel for an easy modular installation with a smart and stylish look. >
Room Controller.
Local network control by wire.
This small and elegant wall-mounted control serves up to 6
units with the same operating settings. Connect up the condensation drain pipe. Now make the electrical connectionsand fit the grille. >
1234 FiltersAir temperaturesensor.
Control and wiringSimply openingthe grille gives
access to all the critical
components:Fan
Zone Manager.
Ideal for system monitoring, the building supervisor can control and program up to 32 different indoor units in 8 independent zones. The user can select four individual
start/stop ranges per day for each zone. >
Integrated condensate drain pump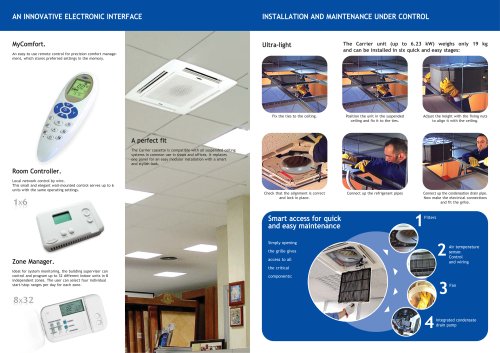 Text version
All CARRIER catalogues and technical brochures
Infinity® Touch Control

6 Pages