Artisan -
2 Pages
The obsession with precision and flawless
motion makes Artisan folding doors simply
perfect.
Maybe that's why Artisan folding doors are
turning up in more prestige residential buildings
and commercial projects all over Australia.
Artisan.emt incorporates a technologically advanced
folding door system that surpasses that of ordinary
bi-folds.
Utilising Effortless Motion Technology (emt), Artisan folding
doors create harmony, balance and a greater sense of
ease. Artisan folding doors move and feel
like no other, because it's made like no other.
At the heart of it all – Effortless Motion Technology (emt)
and Capral's AGS 'Smart Hinge' and 'Easy Gliding'
Channel makes Artisan quietly the best and smoothest
door on the market.
Effortless Motion Technology creates a moving wall that
is flawless in operation while creating a larger than normal
door opening where views become vistas that bring
outdoor pleasure to any interior environment.
Years of research and development were dedicated to
producing the ultimate folding door system.
From simplifying the fabricating process to creating a
stronger yet smoother and much quieter folding door to
operate and maintain. Form, function and flawless motion
are what the Artisan folding door is all about.
www.capral.com.au | phone: 1300 366 517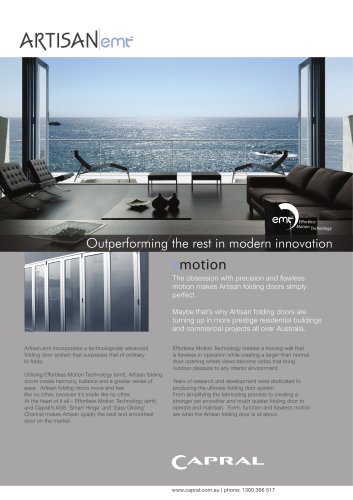 Text version
All Capral Aluminium catalogues and technical brochures
Archived catalogues
the smart windows handbook

15 Pages