Booth
Cambridge Architectural
Cambridge Metal Fabric & Attachment Guide -
24 Pages
L A N D S C A P E I N T E R I O R S
M E S H D E F E N S E
M E S H E L L A N E O U S
M E S H F X
P A R K A D E
S O L U C E N T
METAL FABRIC & ATTACHMENT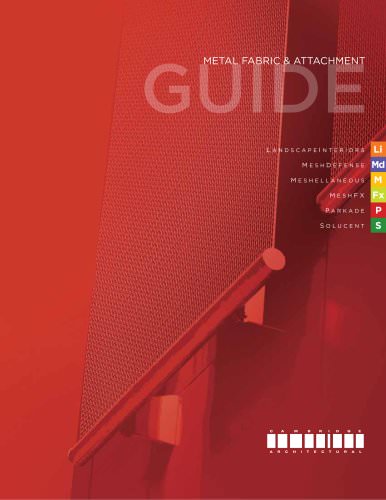 P. 2

To ensure that architects and designers choosemesh patterns and attachments that arecompatible upon installation, Cambridgeprovides a simple user-friendly...

P. 3

ECLIPSE™ ATTACHMENTEclipse tension attachmenthardware provides tailorededges for expanses of flexiblemetal fabric. Elegant, customcut apertures receive...

P. 4

2Velocity tension attachmenthardware is engineeredspecifically for coastal areasthat are subject to hurricaneforce winds. The certifiedattachment is designed...

P. 5

3RAILFLEX™ ATTACHMENTRailflex tension attachmenthardware is specificallydesigned for handrail systems.The ends of flexible metalfabric panels are...

P. 6

With U Frame attachmenthardware, metal fabric is tackwelded to a u-binding framewith mitered corners that arewelded and ground smoothfor a brushed finish.COMPATIBLE...
Text version
All Cambridge Architectural catalogues and technical brochures
Archived catalogues
Cambridge PARKADE™ Systems

5 Pages