Booth
Caggiati Maurizio Srl
drain gutter -
2 Pages
FISSURE DRAIN GUTTERS IN STAINLESS STEEL
DRAIN GUTTER WITH GRILLE
IN STAINLESS STEEL
Caggiati Maurizio
Mod. CANFES
Mod.CANFES220
Mod. CANFESALTA (20/30 mt)
Max length for element 3mt - Max length for arm 12mt
FISSURE DRAIN GUTTER
IN STAINLESS STEEL
The modular system of Caggiati's drains gutter allow to get over 20,000 combination of length and dimension.
Please send us a fax at +39 521632051 with plant draws and we help you to find the right
I solution fit to you.
In option contact our Technical Office at +39 521632050 is at your disposal for give you
any explanation and plan your drainage system.
VERTICAL OUTLET
Mod. C251OO CP
JZf 250 mm
0 Pipe outlet 100 mm
H 375 mm_
A 160 mm
C 204 mm
Mod.C35125CP
JZf 350 mm_
0 Pipe outlet 125 mm
H 465 mm_
A 160 mm_
C 300 mm_
LATERAL OUTLET
Mod.C25100CLP
JZf 250 mm_
0 Pipe outlet 100 mm
H 375 mm_
A 160 mm_
B 230 mm
Mod.C35125 CLP
JZf 350 mm_
0 Pipe outlet 125 mm
H 465 mm
A 160 mm
FISSURE DRAIN GUTTER IN STAINLESS STEEL
CAGGIATI's stainless steel drain gutter need to recive waters and to evaquate
directly in odourless drain trap cover in case supplied with a basket for the
recovery of solid waste. Their profile guarantee a resistance to haevier load in
movement. They can be installed inside of the old cement gutters for a cheap
up dating of your drain.
DESCRIPTION:
• General slope of 8 mm/metre • SS compling flange
• Device levelling with regulanting feet
• CAGGIATI's drain trap cover with basket capacity of 2 Lt/sec
• Water height syphon 60 mm in compliance to EEC regulation
• Washer resistant to concentrated load of 1010 kg
• Delivered ready for laying, each branch can reach 12 m long devided into
elements of 3 m each (a sum of 24 m)
• Supply with flange and all fittings (device levelling feet).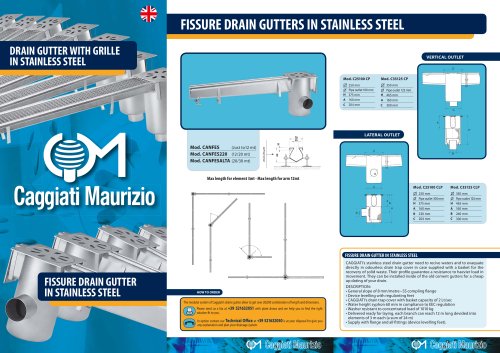 P. 2

DRAIN GUTTER WITH GRILLE IN STAINLESS STEEL CAGGIATI's drain gutter are the best solution to your surface drainage problem. Entirely built...
Text version
All Caggiati Maurizio Srl catalogues and technical brochures