Booth
Caggiati Maurizio Srl
ColourStyle_EN -
1 Pages
From our ongoing research dedicated to
quality, technological solutions, this time we
wanted to wink designs.
This floor drain, next on production, is the maximum
rate of progress in terms of technical performance and
aesthetic. The floor drain is constructed entirely of
TITANIUM (the material used in aerospace and medical
fields) guarantee of high performance chemical /
mechanical and due to its technical characteristics, with
a suitable oxidation treatment, allows the color without
the addition of exterior colors.
The colors that you can create are unique and special
then give it a personal achievement for each harmonizes
well with the rest of the environment where it is. This
prototype marks a decisive step towards a beautifully
designed and unusual for this type of product and always
with high quality standards.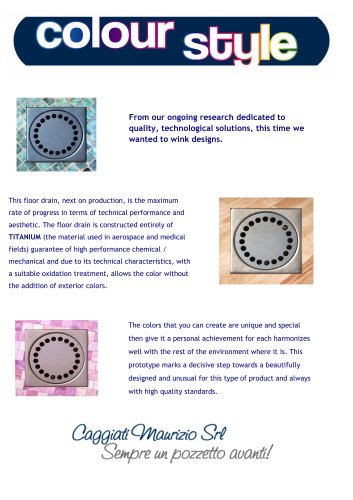 Text version
All Caggiati Maurizio Srl catalogues and technical brochures