Booth
BONALDO
Good Mood -
3 Pages
Good Mood_design Giuseppe Vigano
Divano componibile caratterizzato da volumi
morbidi disegnati da profili. La componibilità è
esaltata dai numerosi elementi disponibili, grazie
ai quali è possibile creare soluzioni ad hoc per
tutti gli spazi. Il meccanismo interno permette di
modificare l'altezza dello schienale, creando un
sistema flessibile e adattabile. Completamente
sfoderabile. Good Mood viene proposto con bordo
perimetrale in vari colori.
A modular sofa featuring soft volumes highlighted
by edging. The modularity is enhanced by a wide
range of available elements, thanks to which you
can create ad hoc solutions for all spaces.
The internal mechanism allows you to alter the
height of the back, creating a flexbile, adaptable
system. Completely removable cover.
Good Mood is available with perimeter edging
in various colours.
Weiche Volumen mit deutlich abstechenden
Profilkeder kennzeichnen dieses Sofa.
Die verschiedenen zur Verfügung stehenden
Elemente ermöglichen zahlreiche Kompositionen,
anhand welcher ad hoc passende Lösungen für
jeden Raum entworfen werden können. Dank
des internen Mechanismus, kann die Höhe der
Rückenlehne nach Wunsch eingestellt werden,
sodass dieses Sofa zu einem flexiblen und
anpassungsfàhigen Möbelstück wird.
Vollstàndig abziehbar. Good Mood wird mit Keder
in verschiedenen Farben angeboten.
Canapé modulaire caractérisé par des volumes
souples dessinés par des profils. Son caractère
modulaire est souligné par de nombreux éléments
disponibles grâce auxquels ils est possible de créer
des solutions ad hoc pour tous les espaces.
Le mécanisme interne permet de modifier la
hauteur du dossier, en créant un système flexible
et adaptable. Entièrement déhoussable,
Good Mood est proposé avec un bord périmétral
en différents coloris.
Sofá modular caracterizado por volúmenes suaves
diseñados mediante perfiles. La componibilidad
se ve exaltada por los numerosos elementos
disponibles, gracias a los cuales es posible crear
soluciones ad hoc para todos los espacios.
El mecanismo interior permite modificar la altura
del respaldo, creando un sistema flexible y
adaptable. Completamente desenfundable,
Good Mood se propone con el bordo perimetral
de diversos colores.
BONALDO
Bonaldo spa via Straelle, 3 3501 0 Villanova (PD) Italy tel. +39.049.929901 1 fax+39.049.9299000 www.bonaldo.lt bonaldo@bonaldo.lt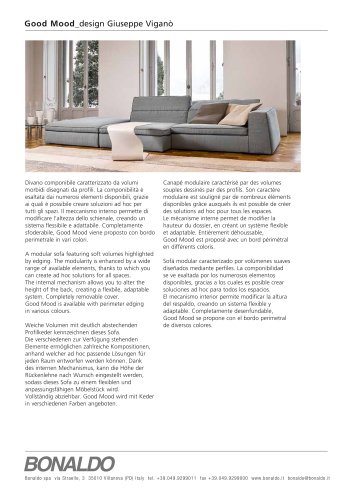 P. 2

Good Mood_design Giuseppe Vigano 153cm-60" 225 cm-89" Bracciolo large Armrest Armlehne Accoudoir Brazo Divano 195 Sofa Sofa Canapé Sofá Divano...

P. 3

Good Mood_design Giuseppe Vigano Prof 108 Centrale 123 Center section Mittelteil Élément central Sección de centro Centrale...
Text version
All BONALDO catalogues and technical brochures