Fata -
2 Pages
Fata_design Dora Monti
Collezione di letti singoli completamente
sfoderabili, disponibili con contenitore oppure con
lato apribile per l'inserimento dei cassetti o della
seconda rete. Con Fata è possibile scegliere fra
tante soluzioni di testate, spalliere ed un'ampia
gamma di accessori. Grazie alla sua versatilità,
la collezione Fata offre soluzioni in diverse aree
di gusto, non solo per i più piccoli ma dovunque
serva un complemento d'arredo pratico ed
elegante.
Collection de lits à une place entièrement
déhoussables, disponibles avec rangement ou avec
côté ouvrant pour l'introduction des tiroirs ou du
deuxième sommier. Avec Fata, il est possible de
choisir parmi de nombreuses solutions de têtes de
lit, de dossiers et une vaste gamme d'accessoires.
Grâce à son adaptabilité, la collection Fata offre
des solutions pour tous les goûts, pas uniquement
pour les enfants, mais pour tout complément
d'ameublement pratique et élégant.
A range of single beds with completely removable
covers, available with storage space underneath
or a side that opens for inserting drawers or a
second bed base. Fata offers numerous ideas
to choose from headboards, backs and a wide
range of accessories. Fata is extremely versatile
and can satisfy any sort of taste, not just for the
children's room but wherever a practical and smart
furnishing solution is needed.
Kollektion mit komplett abziehbaren Einzelbetten,
erhàltlich mit Bettkasten oder mit Unterbau zum
Aufmachen für das Einsetzen von Schubladen
oder einem zweiten Sprungrahmen. Für Fata
stehen viele verschiedene Kopfteile, Seitenteile
und Accessories zur Auswahl. Die ausgesprochen
vielseitige Kollektion Fata halt die richtige Lösung
für jeden Geschmack bereit, und das nicht nur
für die ganz Kleinen, sondern für überall, wo
praktische und elegante Einrichtungsgegenstànde
gefragt sind.
Colección de camas individuales completamente
desenfundables, disponibles con contenedor o
con un lado que se abre para aplicar cajones o
un segundo somier. Con Fata es posible elegir
entre muchas soluciones de cabezales, respaldos
y una amplia gama de accesorios. Gracias a su
versatilidad, la colección Fata ofrece soluciones
para todo tipo de gustos, no sólo para los más
pequeños sino donde sirva un complemento de
decoración práctico y elegante.
BONALDO
Bonaldo spa via Straelle, 3 3501 0 Villanova (PD) Italy tel. +39.049.929901 1 fax+39.049.9299000 www.bonaldo.lt bonaldo@bonaldo.lt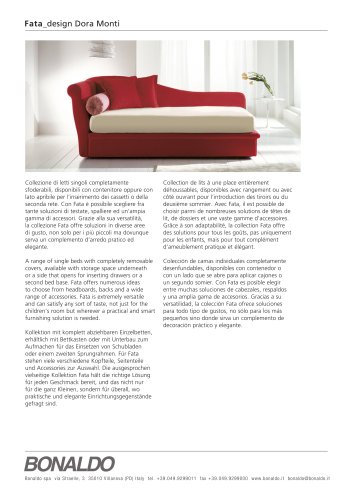 P. 2

Fata_design Dora Monti Fata due Fata quattro Fata cinque Fata sei Fata sette Fata otto Fata con contenitore Fata due contenitore with...
Text version
All BONALDO catalogues and technical brochures