Booth
BONALDO
Cross -
1 Pages
Cross_design Dondoli e Pocci
Tavolo allungabile con prolunga laterale
e con struttura in alluminio anodizzato.
Piano disponibile in cristallo con rigatura incisa.
Leaf table with side extension and frame
in anodised aluminium.
Top available in plate glass with engraved lines.
Ausziehtisch mit seitlicher Verlàngerung und Gestell
aus Aluminium anodisiert.
Platte erhàltlich aus Kristallglas mit eingraviertem
Streifenmuster.
Table à rallonge latérale, avec structure
en aluminium anodisé.
Plan disponible en cristal avec rayure gravée.
Mesa extensible con estructura de aluminio
anodizado.
Sobre disponible en cristal grabado.
165/225
65789"
BONALDO
Bonaldo spa via Straelle, 3 3501 0 Villanova (PD) Italy tel.+39.049.929901 1 fax+39.049.9299000 www.bonaldo.lt bonaldo@bonaldo.lt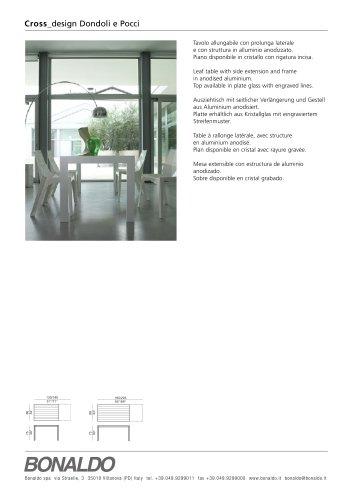 Text version
All BONALDO catalogues and technical brochures