Booth
BONALDO
By -
1 Pages
By _Bartol¡ Design
Sedia imbottita, dinamica e comoda, con struttura
in acciaio. Imbottitura in poliuretano schiumato a
freddo. Rivestita in pelle, le gambe sono in legno
massello di frassino.
This is a padded chair that is dynamic and
comfortable, with a steel frame. Cold-expanded,
polyurethane foam padding. It is upholstered in
leather, and the legs are made of solid ash-wood.
Ein dynamischer und bequemer Polstersessel mit
Stahlrahmen. Die Polsterung besteht aus kalt
geschàumtem Polyurethan. Mit Lederbezug.
Die Sesselbeine sind aus massivem Eschenholz.
BONALDO
Bonaldo spa via Straelle, 3 3501 0 Villanova (PD) Italy tel. +39.049.929901 1 fax+39.049.9299000 www.bonaldo.lt bonaldo@bonaldo.lt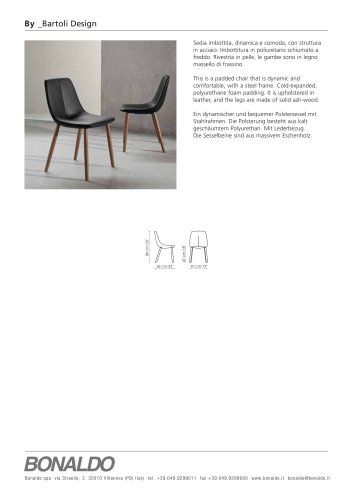 Text version
All BONALDO catalogues and technical brochures