Booth:
BONALDO
Ballerina -
1 Pages
Ballerina_design James Brönte
Sedia con struttura in acciaio verniciato o cromato.
Imbottitura in poliuretano espanso e rivestimento
in tessuto o pelle.
Chair with painted or chrome-plated steel
structure. Polyurethane foam padding with fabric
or leather covering.
Chaise avec structure en acier verni ou chromé.
Rembourrage en polyuréthane expansé et
revêtement en tissu ou cuir souple.
Silla con estructura de acero pintado o cromado.
Relleno en espuma de poliuretano y tapizado en
tela, piel o skay.
Sessel mit Struktur aus Stahl, lackiert oder
verchromt. Polsterung aus PU-Schaumstoff, Bezug
aus Stoff oder Leder.
Ì
59
23"
18"
BONALDO
Bonaldo spa via Straelle, 3 3501 0 Villanova (PD) Italy tel. +39.049.929901 1 fax+39.049.9299000 www.bonaldo.it bonaldo@bonaldo.it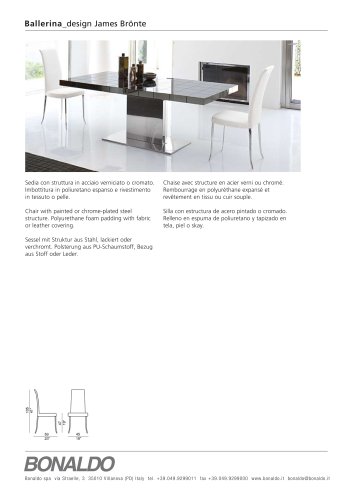 Text version
All BONALDO catalogues and technical brochures