Design Boconcept Collection 2013 -
164 Pages
BoConcept TC R London
158 Tot tenham Cour t Road
London W1T 7NH
Tel. 020 7388 24 47
Fax. 020 7388 24 48
Email. tcrlondon@boconcept.co.uk
BoConcept Not ting Hill
18 – 24 Westbourne Gr ove
London W2 5R H
Tel. 020 7792 4111
Fax. 020 7792 4222
Email. not ting-hill@boconcept.co.uk
BoConcept Harrods London
87 - 135 Br ompton Road
Knight sbridge
London SW1X 7XL
Tel. 020 7225 6586
Email. harr ods _ London@boconcept.co.uk
BoConcept Selfridges London
400 Ox ford Str eet
London
W1A 1AB
Tel. 020 7318 3101
Email. selfridges _ london@boconcept.co.uk
BoConcept Kingston
The Roundhouse
20 Eden Str eet
Kingston-Upon-Thames K T1 1EP
Tel. 0208 546 6050
Email. kingston@boconcept.co.uk
BoConcept Bournemouth
Park way House
28 Avenue Road
Bournemouth BH2 5SL
Tel. 01202 587 74 4
Fax. 01202 587 755
Email. bournemouth@boconcept.co.uk
New York
BoConcept Liverpool
T he Home Quar ter
Liverpool ONE
53 – 55 Hanover Str eet
L1 3DN
Tel. 0151 232 2301
Email. Liverpool@boconcept.co.uk
BoConcept Manchester
MM2 Building
109 -117 Gr eat Ancoat s Str eet
Manchester
M4 5AG
Tel. 0161 228 7111
Email. manchester@boconcept.co.uk
BoConcept Fenwick Newc ast le
Nor thumberland Str eet
Newc astle Upon Tyne
NE99 1AR
Tel. 0191 221 0690
Tel. 0191 232 5100
Email. fenwick.newc astle@boconcept.co.uk
Tu Casa
Unit 6, Hollies Cour t
Hollies Cour t Road
(of f Lichf ield Road)
Cannock WS11 1DB
Tel. 01543 577 669
Fax. 01543 577 099
Email. info@tuc asainterior s.com
Beaumont Home Centre
Goose Gr een Mar sh
Beaumont, St Peter s
Jer sey JE3 7BU
Tel. 01534 822 822
Fax. 01534 822 823
Email. info@beaumonthomecentr e.com
BoConcept Glasgow
257 Sauchiehall Str eet
Glasgow G2 3EZ
Tel. 0141 341 4920
Email. glasgow@boconcept.co.uk
Pavillion Home Furnishers
Barras L ane
Vale
Guernsey GY6 8EH
Tel. 01481 256 572
Fax. 01481 252 104
Email. info@pavillioninterior s.co.uk
BoConcept Guildford
89 Woodbridge Road
Guildford
GU1 4QD
Tel. 01483 565 027
Email. guildford@boconcept.co.uk
Iroka
15/16 Hayle Industrial Park
Hayle
Cornwall TR 27 5JR
Tel. 01736 757333
Email. studio@ir oka.co.uk
BoConcept Redbrick Mill (Leeds)
218 Bradford Road
Batley
West York shir e WF17 6JF
Tel. 01924 460 483
Fax. 01924 460 473
Email. rbm@boconcept.co.uk
New loc ations opening thr oughout 2012/2013.
For mor e information visit boconcept.co.uk
New Delhi
Los Angeles
Paris
Monaco
Shanghai
Barcelona
Panama
Copenhagen
Berlin
Tokyo
Singapore
Munich
Moscow
Athens
Dubai
Auckland
London
Stockholm
Warsaw
STAY INFORMED. JOIN OUR NEWSLETTER AT WWW.BOCONCEPT.CO.UK
Lisbon
08-12/1. 1022000010_UK. Layout: BoConcept A/S In-House, created with Pectora. Print: Evers Frank Print & Media Group Scandinavia. Copyright © BoConcept A/S 2012 - Furniture manufactured by: BoConcept A/S, Denmark under the brand name BoConcept® - www.boconcept.com - We accept no liability for product changes and printing errors.
BOCONCEPT.CO.UK
BoConcept catalogue 2013
£2
BOCONCEPT COLLEC TION 2013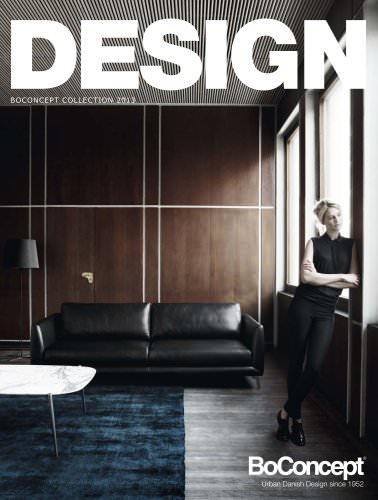 P. 2

MATERIALS AND COLOURSMATERIALS AND COLOURSTHE MODULARITY AND FLEXIBILITY OF BOCONCEPT GIVES YOU THE FREEDOM TO EXPRESS YOURSELF. WE OFFER A WIDESELECTION...

P. 3

20.21.13.14.12.7.11.10.8.15.9.3.16.1: from £2,995 Sofa with lounging unit, jade green felt. 2: £1,695 Highboard, white lacqueredl oak veneer....

P. 4

CELEBRATING 60 YEARS OF DESIGN4.1.2.3.Front cover:Welcome to our 2013 catalogue with lots of new designs, colours and materials. It's great with1: from...

P. 5

CONTENTLIVING12sofas56sofa beds62living chairs66coffee tables70small tablesSTORING74wall systems & bookcases92room dividers94media units148chests of...

P. 6

Use smartphoneto scanyears60Urban Danish Design6.7.8.1.3.4.5.2.1: from £2,795 Sofa with lounging unit, available in fabrics and leathers. H86xW294xD220cm....
Text version
All BoConcept catalogues and technical brochures
BoConcept 2015

164 Pages
Archived catalogues
BoConcept/Catalogue/US/2011

164 Pages

DESIGN new 2010

196 Pages

DESIGN - BoConcept Collection 2009

196 Pages