DESIGN - BoConcept Collection 2009 -
196 Pages
50 51
Sofa, available in fabrics and leathers. As shown, light grey Contra fabric. H83xW220xD90cm. [Quattro - AC30]
Sofa, available in fabrics and leathers. As shown, dark brown Bahia leather. H78xW200xD90cm. [Quattro - AH37] 3. 4. >
301 90 140 Sofa with resting unit, available in fabrics and leathers. As shown, coal melange Forest fabric. H78xW301xD140cm. [Quattro - AU33]5.Wing chair, available in fabrics and leathers. As shown, chrome l black Bahia leather. H108xW68xD71cm. [Chairs - 690069]6.Paso rug, ivory coloured. Also available in grey or mixed black. W140xL200 l W170xL240 l W200xL300cm. >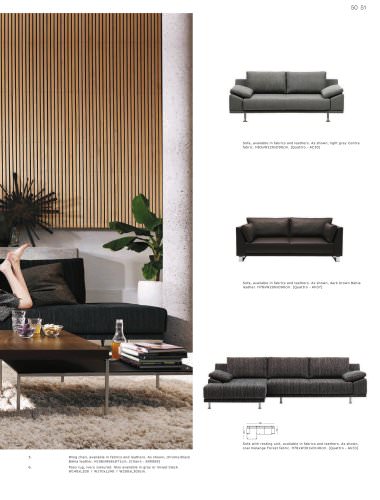 P. 46

living sofasalpha 6.7. 4. 5. 3. 1.Sofa, available in fabrics and leathers. As shown, white Bahia leather. H76xW250xD117cm. [Alpha - 4030]2.Cushion, pcs.,...

P. 47

46 47 ALPHA Redefine your living room with the Alpha sofa. Extend the experience with the additional swivel function for the chair or relax your feet...

P. 48

living sofasquattro 1.2.4. >366 1.Corner sofa with resting unit, available in fabrics and leathers. As shown, dark brown Ripp fabric. H78xW366xD233cm....

P. 49

48 49 HOW TO CUSTOMISE YOUR NEW DIVA SOFA 1. Choose the size and shape Combine the different units to create a sofa that fits your needs...

P. 50

living sofasquattro 1.5. 2. 6. >326 l brushed steel. H45xW55xD55cm. [Occa - 173]3.Coffee table, walnut veneer >90 140 l brushed steel. H40xW91xD91ݽcm....

P. 52

living sofas HOW TO CUSTOMISE YOUR NEW SOFA THE WAY YOU WANT SofasMezzoIndivi 2NovaTerniLargoComoQuattro Height l seat height without legs84 l 38cm68...

P. 53

52 53 ... continuedLegs ModelSize l colour > MezzoIndivi 2NovaTerniLargoComoQuattro 3610H10cm > x 91 94 3700H12cm > xx 91 3710H12cm > xx...

P. 54

IF YOU CANT FIND ROOM FOR YOUR FRIENDS DONҒT BLAME US >

P. 55

54 55 Mariposa Lounge armchair, black Bahia leather.Coffee table, black-stained oak veneer. >

P. 56

living armchairs 1.2.3.4. 1.Veneto chair, available in fabrics and leathers. As shown, aluminium l black Bahia leather. H72xW78xD79cm. [Chairs - 790012]2.Sideboard,...
Text version
All BoConcept catalogues and technical brochures
BoConcept/Catalogue/US/2011

164 Pages

DESIGN new 2010

196 Pages