BoConcept/Catalogue/US/2011 -
164 Pages
l 005
LIVING
8 sofas
50 sofa beds
56 armchairs
60 coffee tables
63 occasional tables
STORING
66 wall systems & bookcases
76 room dividers
94 entertainment units
150 chests of drawers & console tables
152 shelves
DINING
110 dining tables
112 extendable dining tables
125 sideboards
128 dining chairs
132 bar tables & barstools
Let us help you with the delivery and assembly of your furniture so you can concentrate on enjoying your new
piece of furniture. Our professional service team will take care of packaging removal, expert assembly and
placement of the furniture in your home. Please ask in store for details
DELIVERY AND
ASSEMBLY
SLEEPING
134 beds
134 nightstands
146 mattresses, duvets & pillows
148 wardrobes
150 chests of drawers & console tables
HALLWAY
151 mirrors, shoe cabinets & console tables
152 bookcases, shelves & coat stands
WORKING
154 working
154 desks
ACCESSORIES
100 accessories
102 cushions
104 rugs
108 lamps
INSPIRATION
6 endless possibilities
28 design your own sofa
38 u.f.o. - unique floating object
48 customize your sofa
54 soften the look
64 our designers
78 the art of clutter control
86 home help needed
88 one room - three ways
94 multimedia solutions
120 tips for dining spaces
138 we love functionality
FACTS
158 customer information
160 delivery & assembly
160 furniture care
162 social & environmental responsibility
162 product quality
163 codes & symbols overview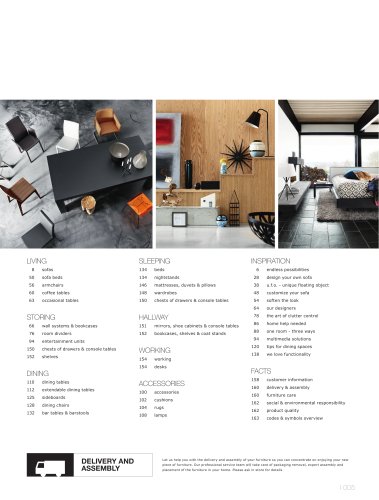 P. 2

1.6.7.8.9.10.no limitsin new favoritesnew multifunctional furniture. new ways to customize.new ideas for your home. no limits in new favorites from Bo...

P. 3

2.3.4.5.11.1: $999 Dining table, walnut veneer. 2: from $4,195 Sofa, available in fabrics and leathers, petrol Felt fabric. 3: from $699 Nomi chair, light...

P. 4

1.3.2.1: from $3,395 Sofa, ice Goya fabric. 2: $879 Coffee table,high-luster whitel chrome. 3: from $1,695 Imola chair, lightbrown Salvador leatherl brushed...

P. 6

006 lENDLESSPOSSIBILITIES!BOCONCEPT IS ALL ABOUT MODULARITY. COMBINE DIFFERENT MODULES TO CREATE YOUR VERYOWN WALL SYSTEM, SOFA, DINING TABLE, COFFEE TABLE,...

P. 7

l 007GOCRAZYPlay with colors, shapes and sizesfor a look that's all your own.COMBINEANDCREATESame modules– different combinationsCUSTOMIZATION ISJUST...

P. 8

008 lno limitsin lounging

P. 9

l 009from $5,190 Sofa with resting unit, light brown Salvador leather.$995 Coffee table, high-luster whitel brushed steel.LIVINGsofa from BoConcept is...

P. 10

010 l1.2.3.
Text version
All BoConcept catalogues and technical brochures
Design Boconcept Collection 2013

164 Pages
Archived catalogues
DESIGN new 2010

196 Pages

DESIGN - BoConcept Collection 2009

196 Pages