BoConcept/Catalogue/US/2011 -
164 Pages
CHECK OUT MORE DESIGNS AT WWW.BOCONCEPT.COM l 049
FABRICS AND LEATHERS
Let your personal style shine through when you select from more than 80 different fabrics and leathers. Explore different
structures, weaves, finishes and colors to find the fabric or leather that suits your specific style and needs perfectly.
ALL LEATHERS AND FABRICS
WILL STRETCH DURING USE.
FOR OPTIMAL COMFORT,
COVERS CANNOT FIT TOO TIGHTLY.
NEED A LITTLE HELP?
Explore all your options at www.boconcept.com. View designs in 3D format.
Change colors and sizes. Even see your designs from different angles. Don't
forget, you can also book an in-home design consultation with one of our
skilled design consultants who can guide you through all the options.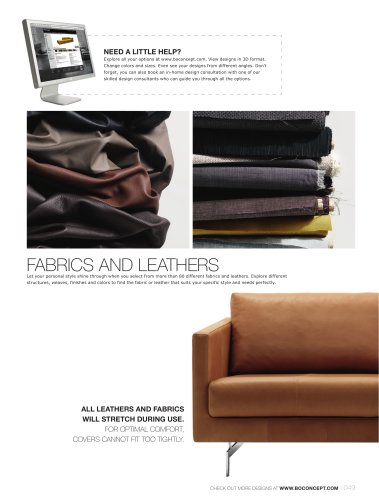 P. 44

044 l2.4.5.

P. 45

l 0458: 9:1.3.6.7.8.9.1: from $2,795 Sofa, available in different fabrics. Shown in, latte Pica fabric, $2,995.H35xW97xD41". [Nova - N23] 2: $1,299 Coffee...

P. 46

046 l5:1.2.3.4.1: from $2,295 Sofa, available in fabrics and leathers. Shown in, latte Bahia leather, $3,995. H32¾xW86¾xD35½". [Quattro...

P. 47

l 0475.7.6.8.CHECK OUT MORE QUATTRO DESIGNS AT WWW.BOCONCEPT.COMThe reinforced, solid wood frame inside the thin baseof the Quattro gives this sofa its...

P. 48

048 lCUSTOMIZE YOUR SOFAOUR SOFAS COME WITH A CHOICE OF ARMRESTS, LEG DESIGNS AND ACCESSORIESChoose the leg designChoose a fabric or leatherChoose the...

P. 50

050 l1.2.5.6.7.9.10.11.

P. 51

l 0513.4.8.12.1: $1,795 Sofa with reclining and sleeping function. Shown in, grey Sazza fabric.H31¼xW68¼xD32¾l 77¾". [Melo - 6070]...

P. 52

052 l1.2.3.4.5.1: from $3,595 Sofa with air mattress, available in fabrics and leathers. Shown in, brown melange Congo fabric, $3,999. H30¾xW81¼l...

P. 53

l 0536.7. 8.9.10.8.8.10.$995CHECK OUT MORE DESIGNS AT WWW.BOCONCEPT.COMOVERNIGHT GUESTS? NO PROBLEMWITH SMART SEATING THAT TRANSFORMS INTO BEDSSofaBed

P. 54

054 l1.2.3.4. 5.1: from $599 Bartina rug, grey. Also available in beige. W55¼xL78¾ l W67xL94½". 2: from $3,695 Sofa, available in fabrics...
Text version
All BoConcept catalogues and technical brochures
Design Boconcept Collection 2013

164 Pages
Archived catalogues
DESIGN new 2010

196 Pages

DESIGN - BoConcept Collection 2009

196 Pages