BoConcept/Catalogue/US/2011 -
164 Pages
162 l
Social and environmental responsibility
All BoConcept suppliers must follow our code of
conduct in order to ensure that all our products
are manufactured in a manner that respects
the rights of their employees.
Furniture production is part of our heritage.
Over 60 years of experience and know-how
provide invaluable benefits for our production
facility in Denmark, as well as in our close
cooperation with our global suppliers. We have
chosen to work with only a few select suppliers
that share our commitment to high quality.
Together, we work to develop competencies
and processes, and to implement initiatives
that take responsibility for people and the
environment. Read more about our code of
conduct on www.boconcept.com.
Our aim is to manufacture products with as
little impact on the environment as possible.
We continually strive to make environmental
improvements in our supply chain, and we have
many positive results to document our efforts,
such as:
• Our furniture lacquers are mainly UV-based,
which means we have reduced the use of
organic solvents significantly
• All our board furniture is within the E1 norm
for formaldehyde emission
• We use recyclable chipboard and MDF
instead of solid wood
• We use packaging made of recycled
cardboard
• Our furniture is packaged according to the
knockdown principle, which minimizes the
transportation volume and thereby the
emission of CO2
Read more about our environmental principles
on www.boconcept.com.
RESPECT
One of the core values at BoConcept is respect. We want to show respect for our customers by delivering great design and quality at the
right price.
Quality
All our furniture is made from high-quality components
and based on our passionate regard for functional and
affordable design. To achieve this, we work with finding the
right balance between carefully selected materials, beautiful
design and deliberate simplicity.
We have applied a quality assurance system based on
the ISO 9000 standard, and most of our products and
accessories meet European and international standards. Our
own production experience and the fact that we work with
only a few, select suppliers puts us in control of the entire
production process ensuring the highest quality every step
of the way.
Wood furniture
You will find veneer surfaces on most of our board furniture,
such as wall systems, tables and bed frames. Veneer is just
like wood – a natural material – and variations in the grain
must be expected. This is what makes each piece of wood
furniture unique.
Glass
Many of our glass tabletops are made of tempered glass for
our customers' safety – please check at time of purchase
whether your glass tabletop has tempered glass. The
colored glass plates are color consistent. All edges are
finished to highest standard.
Metal parts
To reduce impurities, the majority of our metal parts are
made from the highest quality metal. This makes it easier to
work with and leaves a smooth surface.
Upholstered furniture
We are dedicated to ensuring that every single piece of
our furniture provides you with perfect seating comfort.
That's why we primarily use high resilient foam in our
seat cushions. High resilient foam is very structurally
stable, ensuring optimum comfort and a long lifetime. Our
back cushions are channel sewn so that they are durable
and retain their shape. They are filled with specially cut
foaml feather filling. Some of our sofa programs use high
resilient foam for back cushions. Expect a 'breaking in'
period for your new sofa. The cushion fillings need time
and use to stabilize; so your cushions will feel smooth and
comfortable.
The selection and application of hardwearing materials,
which contribute to the lifetime of our products, is a key
factor for us. So too is the widespread use of hard woods,
especially where strength and stability are required. Our
products are upholstered with high quality foam that
ensures both soft and rounded edges and corners, and
means that our cover fabrics wear less and last longer.
Leathers and fabrics
We select our leather and fabrics based on the design and
function of the individual products they are to be used for.
We guarantee no color difference between different pieces
of furniture when commissioned as one order. Our only
requirement is that all the pieces of furniture are ordered at
the same time.
All leathers and fabrics will stretch during use. To achieve
the best comfort covers cannot fit too tightly. Therefore,
some creasing may occur, but this adds character to the
sofa or chair.
All our furniture fabrics are tested at internationally
recognized and accredited institutions.
We have 5 leather types available:
Rio, Bahia and Salto leathers are made from buffalo hide
(Rio) or cowhide (Bahia and Salto) that have been treated to
provide a consistent structure and provide protection against
spills and stains. All three leathers are soft and comfortable,
yet hardwearing and able to retain their appearance over
a long period of time. They are easy to maintain and are
especially recommended for homes with children and pets.
Salto is a thick leather that makes it very suitable for big,
soft surfaces and it has a very exclusive look.
Estoril leather is made from cowhide, and is known for
its natural grain characteristics, and exclusive feel. Soft
and flexible, Estoril leather is classified as high-quality
semi-aniline leather that ensures maximum sitting comfort.
Through use, Estoril leather will develop a beautiful patina
that adds character to the product.
Salvador is a top grain leather and classified as an aniline
leather. The highest quality part of the hide is used for
aniline leather. The natural softness of the leather is
preserved to ensure exclusive seating comfort. Visible
natural markings will add character to the material.
BoConcept supports the UN Global
Compact, which is a strategic policy
initiative for businesses that are
committed to aligning their operations
and strategies with ten universally
accepted principles in the areas of
human rights, labor, environment and
anti-corruption. Read more on www.
unglobalcompact.org.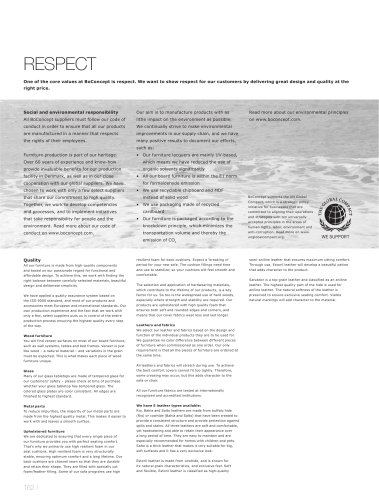 P. 157

l 1573.4.5.7.8.9.9.10.11.12.13.14.15.1: $729 Desk, walnut veneerl chrome. H29¼xW63xD31½". [Occa - 641] 2: $489Bookcase, pcs, walnut veneer. H30¾xW31xD12"....

P. 158

158 lBoConcept is the brand name of Denmark'smost global retail furniture chain with morethan 240 successful franchise-driven BrandStores and 90 Studios...

P. 159

l 159Return and exchange policyIf you are dissatisfied with your purchase, youare naturally entitled to return it within fivedays (furniture) or seven...

P. 160

160 lFor quick and easy delivery and assembly, ourprofessional service team can assist. They areknowledgeable about our products and willensure expert...

P. 161

l 161Upholstery in general• If possible, switch the seat and backcushions on a regular basis to extend the lifeof your cushions and to ensure even...

P. 163

l 163111459596055553933414294439140519369613766BE YOUR OWN DESIGNERThe modularity and flexibility of BoConcept gives you the freedom to express yourself....

P. 164

08-10/1. 100801748-US. Layout: BoConcept A/S In-House, created with Pectora. Print: Mohn Media Gütersloh. Copyright© BoConcept A/S 2010 - Furniture...
Text version
All BoConcept catalogues and technical brochures
Design Boconcept Collection 2013

164 Pages
Archived catalogues
DESIGN new 2010

196 Pages

DESIGN - BoConcept Collection 2009

196 Pages