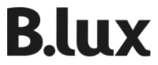 Booth
B.LUX
Blink -
8 Pages
Dhemen
Blink es una familia de luminarias
técnicas que se caracteriza por su
integración en la arquitectura de los
espacios. Posee un original diseño,
inspirado en el modo en el que el
ojo humano enmarca y protege la
luz en el acto del guiño o parpadeo.
Esta nueva colección de luminarias
permite un juego de luces
arquitectónicas, gracias a sus
diferentes versiones, Blink SD es
un bañador de luz indirecta,
mientras que los focos Blink DW
proporcionan luz directa. Ambas
funciones se fabrican en tres
tamaños diferentes, en colores
blanco y negro. Como fuente de
luz, Blink SD permite el empleo de
lámparas halógenas, fluorescentes
o LED, mientras que Blink DW porta
halógenas o LED.
Blink Is a range of technical lighting
solutions characterised by their
integration into the architecture of
spaces. They offer an original
design, inspired by the way the
human eye frames and protects the
light when winking or blinking.
This new range of light fittings
provides a complete set of
architectural lighting solutions,
thanks to the different versions
available. Blink SD provides a pool
of indirect light, whereas the Blink
DW spotlights provide direct lighting.
Both models come In three different
sizes and are available In black and
white. As a light source, Blink SD
can be used with halogen,
fluorescent or LED bulbs, whereas
Blink DW can be used with
halogens or LEDs.
Die technische Leuchtenreihe Blink
zeichnet sich durch ihre Integration
in die architektonischen Raurne aus.
Ihr originelles Design hat eine
beslimrnte Geste des menschllchen
Auges zum Vorbild: das Blinzein
bzw. Zwinkern zum Regulieren des
einfallenden Lichts.
Mit ihren verschledenen
Ausführungen ermögllcht diese
neue Leuchtenreihe ein komplexes
Spiel archltektonischer Lichtführung.
Blink SD taucht den Raum In
indirektes Licht, die Strahler Blink
DW dagegen sorgen für dlrekte
Beleuchtung. Belde Varianten
werden in drei verschiedenen
GröBen sowie in Schwarz und WeiB
hergestellt. Als Lichtquelle kommen
für Blink SD Halogen- und
Leuchtstofflampen sowie LEDs in
Frage, Blink DW ist für Halogen und
LED ausgelegt.
1
Text version
All B.LUX catalogues and technical brochures
Light is aROUND

34 Pages

DECO TECH URBAN

357 Pages

NEWS 2013

2 Pages
Archived catalogues