Metallaire Ceilings -

4

/ 6 Pages
Metallaire
TM
Styles
Whether building a new space or renovating an existing space, an Armstrong Metallaire ceiling will be the crowning touch. The final detail that makes your room uniquely memorable. Make a bold and contemporary design statement. Or create a quiet
ambiance with subtle and sophisticated patterns evoking the essence of another time.
Small Panels* Fans* Small Floral Circle* Vine*
5422204 Nail Up5424204 Lay In 5422207 Nail Up
5424207 Lay In 5422209 Nail Up
5424209 Lay In 5422210 Nail Up
5424210 Lay In >
Medallion* Large Floral Circle Medium Panels Hammered Trefoil
5422234 Nail Up
5424234 Lay In 5422309 Nail Up
5424309 Lay In 5422320 Nail Up
5424320 Lay In 5422321 Nail Up
5424321 Lay In >
Wreath Bead Large Panel Hammered Border
5422503 Nail Up
5424503 Lay In 5422504 Nail Up
5424504 Lay In 5422505 Nail Up
5424505 Lay In 5422509 Nail Up
5424509 Lay In >
Installation may require filler panels around edge of room. Order 5424235__ for filler panels. Nail-up installation styles available in 2 ' x 4 ' . Grid installation styles available in 2 ' x 2 ' . *Backsplash available in 18.5'' x 4 8.5'' Stainless Steel finish only. Metallaire Finishes
Metallaire is available in five finishes. Choose one that complements thespace's existing color and architectural features. Or choose a finish that
will be the focus of all remaining color choices in your space.
AR - BrassNA - Steel AM - ChromeWH - White CP - Copper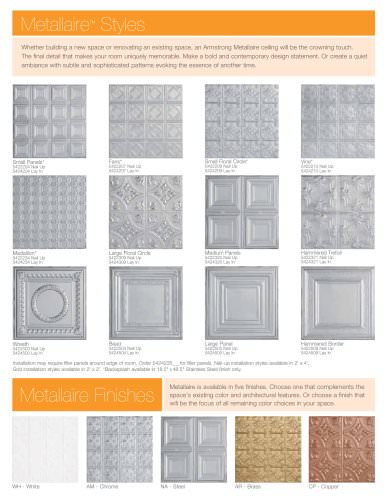 Text version
All Armstrong ceilings - USA catalogues and technical brochures
Archived catalogues