Booth

Actiu
Group: Actiu

UMA -
14 Pages
www.actiu.com
silla
ACTIU se reserva el derecho de modificaciones técnicas, medidas y precios. Queda prohibida
la reproducción total o parcial de cualquier imagen sin la autorización de ACTIU. En caso de
litigio, sólo serán válidos los tribunales de Alicante (España).
UMA
ACTIU reserves the right to make technical improvements and change prices. Any use of
pictures, images or brands is forbidden without the written consent of Actiu.
COD: 9826 • 06-07 • 1ª
ACTIU se réserve le droit de modifications techniques, dimensions, finitions et prix. Interdite
l'utilisation totale ou partielle de la marque et des images sans accord préable signé par
Actiu. En cas de litige, seul les tribunaux d'Alicante (Espagne) seront compétents.
chair
siège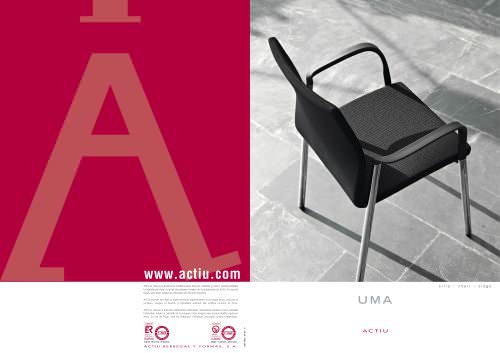 P. 2

UMA TECHNOLOGYUna silla versátil de líneas naturales yergonómicas, diseñada por Lledó & Camposy desarrollada por Actiu. Su...

P. 3

UMA es un amplio programa adaptable a las diversas necesidades de equipamiento: recepción, confidente direccional y de reunión,bibliotecas, salas...

P. 4

Distinción y sencillez adquieren forma con el modelo de 4 patas. Diferentes opciones de brazos permiten personalizar cada silla asícomo potenciar...

P. 5

UMA se puede instalar como confidente en despachos, ya que su ligereza visual combina a la perfección con otras opciones de equipamientocomo sillones...

P. 6

El modelo de 4 patas se integra de forma natural en espacios de reunión y colectividades respondiendo a las exigencias de cada puesto.4 leg model...
Text version
All Actiu catalogues and technical brochures