Booth

Accsys Technologies
Group: accsys

Cladding, Siding & Façades -
24 Pages
the world's leading high technology wood itiWod's Revitalization The scnario: As part of a large community renewal effort in South Dallas, the Jubilee Park Resource and Community Centers were envisloned as the new communal hub for a hlstorlcaiiy undorprivlleged neighborhood. Both centers needed to accommodate a host of diff੩rent needs-lrom housing a police departmcnt substation to providing space for senior citizen programs and after school care for children-while also bridging the stark gap between old and new. Wblle turnof-the-century homes In the area were largely wood in nature newer constructions bullt by local and national non profit organisations relied heavily on brick and other matriels, causing an imbalance. The Resource and Community Centers needed to establlsh a unifying prsence while malntaining cost-effectiveness and creatlng usable, lastlng resources for the community. Sustainability was also a priority for Brent A. BrownArchitects, the designers ot the centers. The solution: Opting to create a wood siding on both the buildings, Brent A, Brown Architects selected Accoya wood for Us strength, durabHlty, aesthetlc Impact and sustalnabie sourclng, The wood was milled for a custom joint application. Rather than creating a typfcal tongue and groove, a 45 degree miter joint wlthout any corner trim was made to hide the seam. Unlike other woods which moveand separata Accoya wood remained tight at the joint for a flawless finish. 驕The Accoya wood held Its dlmensional characterlstlcs Incredlbiy woir says Dan Finnell, Partner wlth brownarchitects and project manager of the jubilee Resource Center and Community Center construction projects. He adds, "lt was exposed to the hot Texas sun for months, prior to additionat owner-request stain, and we never had any issues wlth cupplng or splittmg: Ci "The mission of Jubilee Park and Community Center Corporation is to be a catalyst for community renewal and enrichment to the Dallas/Fair Park neighborhood, with spcial emphasis on comprehensive, community revitalization and the ducation of children and adults" f rom the dedicat驮on of the new Resource and Community Center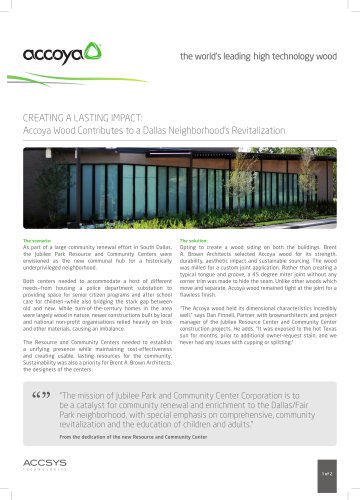 P. 2

accoya The result: With similar durability characteristics of tropical hardwoods like ipe and massaranduba, Accoya wood offered a robust alternative to...

P. 3

the world's leading high technology wood STRENGTH MEETS SUSTAINABILITY: University of Florida Solar Dcathlon Team Uses Accoya Wood The scnario: Competing...

P. 4

accoyaO 91 445? "Accoya wood really fell in line with our sustainable goals for the house." Paige Mainor, Project RE:FOCUS design contributor The Project...

P. 5

the world's leading high technology wood URBAN RENEWAL: Accoya Wood Meets Multiple Needs in Mixed Reuse Project The scnario: With the urban renewal and...

P. 6

Ci "With Accoya wood, we continue to get repeat customers. We haven't sold Accoya wood to anybody who hasn't continued to use it in some fashion on their...
Text version
All Accsys Technologies catalogues and technical brochures
Archived catalogues